Call Of Duty: Black Ops 3's Newest Trailer Highlights The Eclipse Map Pack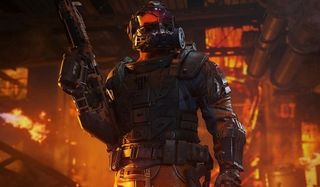 Call of Duty: Black Ops III is gearing up to drop a new map pack on runners and gunners, with a brand new trailer celebrating the new locales being offered in the "Eclipse" DLC.
Call of Duty: Black Ops III will soon receive its second major DLC pack, this time including a quartet of new multiplayer maps and a brand new zombie map for players to shoot their way through. It's called the "Eclipse Pack," and it boast a pretty hefty collection of fresh stomping ground for players to explore.
To celebrate the impending launch of the Eclipse Pack, Activision today launched a new trailer highlighting the multiplayer maps getting plugged into BlOps III when the DLC hits the PlayStation 4 this Tuesday, April 19, and Xbox One next month. In case those dates seem odd, consider this your friendly reminder that Activision set up a partnership with Sony this generation that's basically identical to the one they had with Microsoft last generation. In other words, pretty much everything coming to Black Ops III post launch will hit PlayStation 30 days before Xbox.
As for those maps you'll be getting in the Eclipse Pack, first up Verge, which is a retooled version of Banzai from World at War. That throwback map will be joined by a trio of completely new offerings including spire, Knockout and Rift. Spire is set in a sub-orbital airport while Knockout is set in, of all places, a martial arts arena. Finally, Rift ups the insanity factor with a military facility suspended over an active volcano.
Verge, Banzai and Knockout are all set in bright, sunny locales while Rift looks more like something we're used to seeing in the Killzone franchise, including dark and sinister buildings hovering next to glowing red magma and air thick with ash.
And in case you forgot what the Zetsubou No shima zombie map looks like, here's a refresher.
That zombie-infested romp comes as part of the Eclipse package, giving players new undead enemies to blast their way through spread across a pretty terrifying looking island set somewhere in Asia.
Not to throw shade at the standard Call of Duty action, honestly, some of the stuff the team is doing with the zombie maps is far more interesting to me than another tale of political espionage, double-crosses and soldiers struggling with following orders or doing "what feels right." I know the next Call of Duty is supposed to be set in space, but maybe the one after that can be a grindhouse-inspired campaign that gives full attention to monstrous baddies instead of waves of soldiers? Just a thought.
Staff Writer for CinemaBlend.
Your Daily Blend of Entertainment News
Thank you for signing up to CinemaBlend. You will receive a verification email shortly.
There was a problem. Please refresh the page and try again.