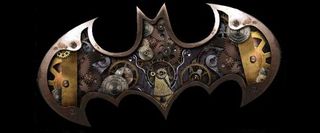 Thanks to Batman: Arkham Asylum and Arkham City, fans of the Dark Knight really have no cause for complaint these days. However, newly unearthed concept art reveals that gamers missed out on an intriguing steampunk take on the superhero.
Artist Julie Farrell's online portfolio (spotted by Superannuation) reveals that she was working on a project called Gotham by Gaslight. It was based on a one-shot comic of the same name, a Batman tale set in the late 19th century. It was part of DC Comic's Elseworlds imprint, which took established heroes and put them in new settings.
"This was a game I was really looking forward to working on. Unfortunately it was just a pitch. I had a blast creating the menus for this game, as steampunk is really quite unique, interesting and something I love to design," said Farrell on her website.
She told Joystiq that F.E.A.R. 3 developer Day 1 Studios pitched the game to THQ two years back. She is a UI artist so the shots are unfortunately from menus rather than gameplay. The control scheme images do reveal that the game was planned for the Xbox 360 and would've given Batman grenades and a slow-mo ability.
Again, Batman-loving gamers are much luckier than most comic book fans when it comes to video game adaptations so I can't spend too much time mourning this project. Batman hunting Jack Ripper does sound like a pretty sweet premise for a game, though.
Your Daily Blend of Entertainment News
Staff Writer at CinemaBlend.