Carmageddon: Max Damage Is Hitting Consoles Later This Year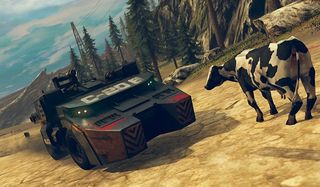 Still got that Mad Max fever racing through your veins? In need of some good old-fashioned car combat? Well, you'll be happy to know that Carmageddon: Max Damage is slated to hit a console near you later this year.
The news went live on the European PlayStation Blog earlier today and was later picked up by the folks at Game Informer, who understand what it feels like to dream of a lovely, lovely day of explosive car crashes. If you also wish to live shiny and chrome, then you'll be able to do exactly that later this year on both the PlayStation 4 and Xbox One, according Stainless Games Publishing Director Jason Garber.
Carmageddon is basically what you would get if you crossed an arcade racer like Burnout with the violence (though sadly no clowns) of Twisted Metal. Players will head into Bleak City to take part in six-player rallies that have them driving more cars and more environments than the series has ever features.
You'll be able to take Max Damage online or play against bots offline, so no worries on whether or not you can get a regular group together for Monday Night Crashfests. Modes kick off with Classic Carma, which have you attempting to either destroy all of your opponents, run over every pedestrian or complete three laps before the other racers. There's also a Fox 'n' Hound moe, where one player is marked as the "Fox" and all of the "Hounds" try to take them down. Did we mention this is a pretty violent racing game?
If you're one of those folks who likes to relive every moment of the action, there's also an Action Replay mode available that lets you explore the race and set up cameras to capture your best cinematic moments.
All we have for a release date is "mid-2016," so we probably won't actually be stepping behind the wheel of Carmageddon for a bit longer. Still, that should put its launch somewhere around summer and, let's face it, that's a season in desperate need of more games. What better way to cruise through the summer drought than by reliving your favorite moments from movies like Mad Max with a controller in hand?
If you're looking for more details, then the official website is full of them. You can take a look at detailed information on the environments, game modes and power-ups, plus check out the community page to join conversations about the game.
So if you're feeling the need for speed but want to play something a bit more graphic than, say, Need for Speed, maybe Carmageddon: Max Damage is something to keep on your radar.
Staff Writer for CinemaBlend.
Your Daily Blend of Entertainment News
Thank you for signing up to CinemaBlend. You will receive a verification email shortly.
There was a problem. Please refresh the page and try again.