16 Intense Post-Apocalyptic And Dystopian Movies And Where To Stream Or Rent Them Online
It's the end of the world as we know it...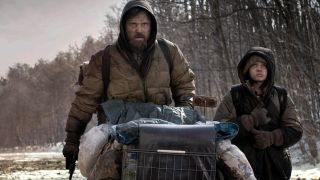 (Image credit: Dimension Films)
There's nothing quite like a good post-apocalyptic movie to get you through a tough spot. While some people turn to comedies to distract them from the world outside, some love to watch movies that show you just how crazy the world can become after nuclear war or some other cataclysm. But with so many options to stream or rent movies set in a dystopian future, it can be hard to find the movie you're looking for.
Lucky for you I've put together this list of intense post-apocalyptic and dystopian movies that you don't want to miss. From some of the best sci-fi movies of all time to amazing zombie films with a lot of gore and social commentary, there's a little something for everyone here. That being said, lace up your boots, check your gas-mask, and grab your bag, because we're going to the wasteland…
The Road (2009)
The late Cormac McCarthy, who passed away at the age of 89 in June 2023, per the New York Times, was one of America's greatest and darkest writers. Over the course of his decades-long career, McCarthy wrote a dozen novels, several of which were adapted into movies like All the Pretty Horses, No Country for Old Men, and one of his most harrowing books, The Road.
Directed by John Hillcoat, the post-apocalyptic survival film follows a man (Viggo Mortensen) and his son (Kodi Smit-McPhee) as they attempt to cross the wasteland that is the American landscape in hopes of finding a better life in the warmer Southern climate. The cataclysmic event that led to societal collapse is left ambiguous, as the film's core narrative is more focused on survival and the sacrifices we take to ensure at least our children live to see a better tomorrow.
Stream The Road on Prime Video.
The Rover (2014)
There have been a lot of great dystopian movies set in the Australian outback, and one of the better and more recent examples of this is David Michod's 2014 thriller, The Rover. A decade after a global economic crisis left society in shambles upheaval, the world has become a lawless, dangerous, and desperate place, leading many to turn to a life of crime to ensure survival.
The movie largely follows Eric (Guy Pearce), a drifter who embarks upon a one-man revenge mission after a gang of bandits steals his car while leaving behind one of their own (Robert Pattinson in a tremendous performance). Using the injured thief as a bargaining chip, Eric turns to extreme means to get back what is his while also learning something along the way.
Stream The Rover on Max.
Rent/Buy The Rover on Amazon.
Elysium (2013)
Following the success of his 2009 feature film directorial debut, District 9, Neill Blomkamp gave the world Elysium four years later. This dystopian sci-fi action thriller stars Matt Damon as Max Da Costa, a reformed criminal with dreams of living on the luxurious space station known as Elysium. But like other movies in the genre, Blomkamp's sophomore effort presents a world in which Max's dreams are just that – dreams.
Instead, the film's hero is subjected to a life of disease, pollution, and overpopulation as the more impoverished members of society are forced to await their fate as the rich and powerful live in their ivory tower outside Earth's atmosphere. But when enough becomes enough, Max rises to the occasion and becomes the hero the have-nots have needed all along.
Stream Elysium on Prime Video.
A Quiet Place (2018)
Probably the quietest movie on this list, John Krasinski's 2018 lesson in theater etiquette, A Quiet Place, is as terrifying as it is silent. This monster movie follows the Abbott family as they fight for survival in a world that has been overtaken by the mysterious and sightless alien creatures who are drawn by sound.
This intimate look at a family in crisis provided for one of the most terrifying and emotional theatrical experiences upon its release, as was the case for its 2021 sequel, A Quiet Place Part II. And now that there is a spinoff film with the upcoming release of A Quiet Place: Day One and more installments about the Abbot family on the way, there's never been a better time to revisit one of the best horror movies on Paramount+.
Stream A Quiet Place on Paramount+
Rent/Buy A Quiet Place on Amazon.
Also try: A Quiet Place Part II on Paramount+.
I Am Legend (2007)
Starring Will Smith as Dr. Robert Neville, the last man in New York after a worldwide plague turned humans into zombie-like creatures, I Am Legend explores the idea of what happens when someone is basically totally isolated in what's left of the world. Equal parts medical drama and scary as hell horror movie, this 2007 thriller from director Francis Lawrence is one of the most terrifying monster movies to come out in the last 20 years.
Though the I Am Legend ending leaves things on a dire note, we'll soon get to see Smith's Robert Neville team up with Michael B. Jordan in the upcoming sequel, one that is reportedly going to be heavily influenced by The Last of Us.
Stream I Am Legend on Max.
Rent/Buy I Am Legend on Amazon.
Dawn Of The Planet Of The Apes (2014)
There are plenty of Planet Of The Apes movies to choose from, but none capture the dystopian look better than Dawn Of The Planet Of The Apes from director Matt Reeves. Set 10 years after the Simian Flu wiped out most of the world's human population, this 2014 science fiction action blockbuster is led by a cast that includes by Andy Serkis as the ape tribe leader Caesar, who is forced to coexist with Gary Oldman's Dreyfus, Jason Clarke's Malcolm, and Keri Russell's Ellie as both species fight for survival.
With the franchise returning in the near future with the upcoming Kingdom of the Planet of the Apes, now would be a great time to go back and check out this modern classic that is somehow nearly a decade old.
Stream Dawn of the Planet of the Apes on Max.
Rent/Buy Dawn of the Planet of the Apes on Amazon.
Mad Max: Fury Road (2015)
Released 30 years after the last entry in the franchise, writer-director George Miller made sure to let fans of the series know that Mad Max: Fury Road was worth the wait. This Oscar-winning thrill ride follows Max Rockatansky (Tom Hardy) and Imperator Furiosa (Charlize Theron) as they escape from the tyrannical Immortan Joe (Hugh Keays-Byrne) in a desert wasteland.
With some of the most impressive special effects and action set pieces, Fury Road is as brutal as it is beautiful. Anyone who's a fan of the Mad Max franchise, or post-apocalyptic films in general, ought to love this mad dash.
Rent/Buy Mad Max: Fury Road on Amazon.
Mad Max 2: The Road Warrior (1981)
Though it is the second entry in George Miller's dystopian franchise, Mad Max 2: The Road Warrior is often the film most people picture when they think about Mel Gibson's character. With memorable characters like The Humungus (Kjell Nilsson), Gyro Captain (Bruce Spence), and Feral Kid (Emil Minty), it's hard to forget this octane-fueled race about a small group of settlers who tries to defend themselves from a roving band of marauders.
I would also recommend watching Mad Max and Beyond Thunderdome to complete the original trilogy, but if you had to choose one, you have to go with The Road Warrior.
Stream Mad Max 2: The Road Warrior on Max.
Rent/Buy Mad Max 2: The Road Warrior on Amazon.
Snowpiercer (2013)
Before Bong Joon-ho made history with his 2019 thriller Parasite, the South Korean filmmaker showed audiences what would happen if society was forced to occupy a speeding train after an attempt to stop global warming backfires.
With a cast that includes Chris Evans, Ed Harris, Tilda Swinton, and Song Kang-ho, this 2013 dystopian thriller is equal parts action film and exploration of social classes even when humanity is all but doomed. In addition to the cast, impressive special effects, and one of the most unsettling endings of all time, Snowpiercer is definitely a movie to check out either for the first time in a decade or the first time entirely.

Rent/Buy Snowpiercer on Amazon.
Children Of Men (2006)
Personally, Children Of Men is one of my favorite movies in the dystopian/post-apocalyptic genre. Set two decades after humans mysteriously became infertile, society has all but collapsed besides strongholds in London that feel more like prisons than thriving cultural centers.
Starring Clive Owen as Theo Faron, a civil servant dealing with the loss of his only child who must help an illegal immigrant by the name of Kee (Clare-Hope Ashitey) escape the chaos after it's discovered that she is pregnant, the movie follows a race against time and nefarious parties who want the young woman for their own gain This bleak and disturbing thriller was brought to life by Alfonso Cuarón, who would go on to direct Gravity and Roma in the years following its release.
Stream Children of Men on Starz.
Rent/Buy Children of Men on Amazon.
Escape From New York (1981)
What happens when the President of the United States is taken hostage in New York City years after the island of Manhattan is turned into a massive, maximum security prison colony? You send in Snake Plissken (Kurt Russell), of course. John Carpenter's 1981 dystopian classic Escape From New York follows the former Army Special Forces lieutenant as he lands on the island and fights his way to find the President before he is killed.
Between Plissken and his goal, however, stands a city filled to the brim with dilapidated buildings, barricaded streets, and ruthless street gangs who run the island. This legendary action thriller has some of the best fight scenes, set pieces, and low-budget special effects, especially those nifty tricks by James Cameron, you'll see in the genre.
Stream Escape From New York on Prime Video.
Wall-E (2008)
Although not as intense or terrifying as other movies that fall into the genre, Wall-E is more than deserving of a spot on this list. This charming, hilarious and heartfelt 2008 Pixar movie is one of the all-time best releases by the animation studio, and has an incredible story and stunning visuals that still resonate 15 years later.
One of the Pixar movies that defied the formula and found great success, Wall-E follows a curious and adorable robot as he has his first encounter with love in the form of the sleek and sophisticated EVE. On top of that, the movie also has a powerful story about exploration, new beginnings, and the damaging effects pollution and human negligence have on the world.
Stream Wall-E on Disney+.
Rent/Buy Wall-E on Amazon.
A Boy And His Dog (1975)
If you're looking for a shockingly funny approach to the whole "life after the end of the world" scenario, then look no further than the 1975 black comedy A Boy In His Dog. Starring Don Johnson as Vic, an orphaned teenager who's lacking in both education and morals, this surprisingly funny science fiction movie also features a telepathic dog, Blood.
Together, Vic and Blood wander the American Southwest as they are forced to work together to survive the difficult terrain and psychopaths left behind in a world ravaged by nuclear war.
Stream A Boy and his Dog on Plex.
Stream/Rent/Buy A Boy and His Dog on Prime Video.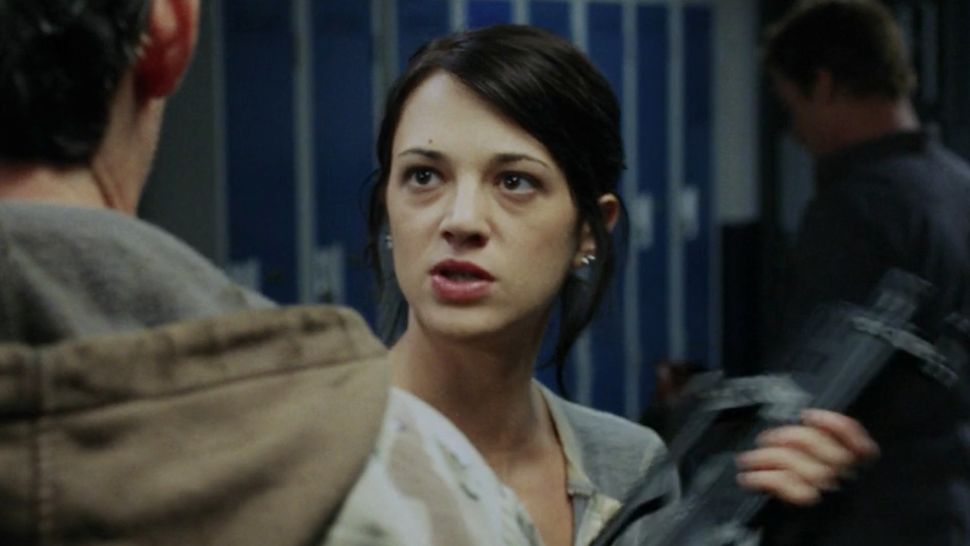 Land Of The Dead (2005)
If we're looking specifically at post-apocalyptic scenarios, the fourth entry in George A. Romero's zombie saga, Land Of The Dead, is probably the best representation of humanity after society has come crumbling down.
Set years after the dead first began to rise from their graves and eat their victims, this 2005 zombie flick argues that nothing, not even vast wealth and a sense of security can prevent the hordes of undead from reaching the top of your ivory tower. Incredible performances from Simon Baker, John Leguizamo, Asia Argento, and the late Dennis Hopper make this one you don't want to miss.
Stream Land of the Dead on Starz.
Rent/Buy Land of the Dead on Amazon.
12 Monkeys (1995)
Probably the weirdest movie on this list, Terry Gilliam's 12 Monkeys stars Bruce Willis as James Cole, a futuristic prisoner who is sent back to 1996 to prevent the release of a deadly virus that wiped out much of civilization. When he is sent back to the wrong time period, Cole is taken to a psychiatric hospital where he meets Jeffrey Goines, portrayed by a young Brad Pitt.
If you are a fan of time travel, dystopian futures, and incredible performances from Brad Pitt, then this terrifying and unsettling dystopian thriller is something you don't want to miss.

Rent/Buy 12 Monkeys on Amazon.
Book Of Eli (2010)
Written by Rogue One and After Earth co-writer Gary Whitta and directed by the Hughes Brothers, The Book Of Eli is more or less a classic western story set in the post-apocalyptic American West.
The movie offers an inspirational story that follows Eli (Denzel Washington) as he is told to deliver a mysterious book to the West Coast in an attempt to bring some salvation to those left on the dying planet.
Stream The Book of Eli on Max.
Rent/Buy The Book of Eli on Amazon.
Those are some of the more intense post-apocalyptic and dystopian movies out there, but with more films in the genre being released all the time, expect to see more additions to this list in the future. In the meantime, take a look at our 2023 movie schedule so you can get up to speed on all the big releases coming to theaters this year.
Your Daily Blend of Entertainment News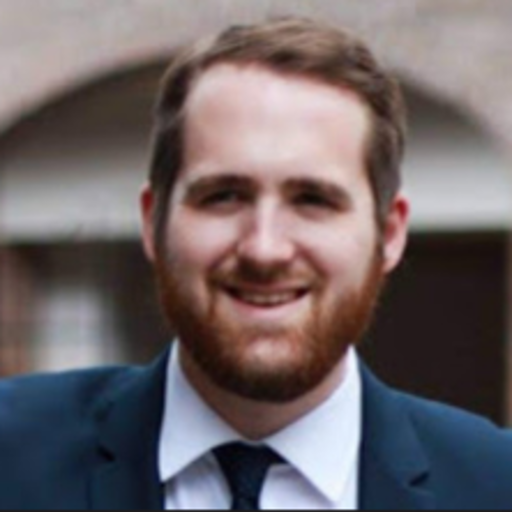 Philip grew up in Louisiana (not New Orleans) before moving to St. Louis after graduating from Louisiana State University-Shreveport. When he's not writing about movies or television, Philip can be found being chased by his three kids, telling his dogs to stop barking at the mailman, or yelling about professional wrestling to his wife. If the stars properly align, he will talk about For Love Of The Game being the best baseball movie of all time.