Carrier Command Coming To Xbox 360, PC This Fall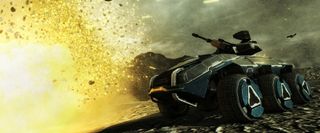 Rising Star Games announced that they will porting over Bohemia Interactive's Carrier Command. The game will be made available in North America for the Xbox 360 and PS3 sometime during the late third quarter of 2012.
For those of you unfamiliar with Carrier Command or Bohemia Interactive, take note that they're the same indie devs behind Arma II, the FPS/TPS military sim which has been topping the Steam charts for the past two months thanks to the wildly popular zombie survival mod, DayZ.
Well, Carrier Command is a different kind of beast. The game can be played either in first-person or third-person and is basically played out like a real-time strategy game similar to Command & Conquer, except you do it in a real-time environment like a typical shooter game. You'll manage bases, resources, vehicles and armament as you attempt to control more than 30 "unique" islands.
Marek Spanel, CEO and founder of Bohemia Interactive commented in the press release, saying...
We don't get many games that are major retail releases that break from trends. Most shooters are military or sfi-fi cookie cutter titles and most other games in between are a mix of the former two. The idea that you manage elements of a strategy game while also engaging in action-oriented combat is pretty cool.
You can look for Carrier Command to land on retail shelves for the Xbox 360 at $59.99 and for PC at the $49.99 price points. For more info feel free to visit the Official Website.
Staff Writer at CinemaBlend.
Your Daily Blend of Entertainment News
Thank you for signing up to CinemaBlend. You will receive a verification email shortly.
There was a problem. Please refresh the page and try again.