Child's Play Game In The Works Starring Chucky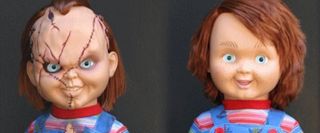 TikGames, a small-time developer of PC, Xbox Live Arcade and PSN titles has undertaken a rather risky project by turning Child's Play murder-icon, Chucky, into a video game for the Xbox 360, PS3 and PC.
According to Play Tribune [via CVG] co-founder and vice president of publishing for TikGames, Alex Tikman commented that…
The horror genre in gaming has sort of become like the horror genre in movies: there's some low-budget titles out there like SAW and Rise of Nightmares that have found niche audiences, but they certainly aren't what they used to be back when games like The 7th Guest, The Haunting and Resident Evil were all the rave back during the mid 1990s.
Chatter about the title is rather mild, with some gamers questioning the quality of the game coming from a small-time indie studio while others are holding out hope that due to the studio's smaller size it allows them more creative freedom and less restraints as opposed to working on a typical movie-game under a bigger publishing studio.
We'll be sure to keep you posted on any news regarding this Chucky game.
Staff Writer at CinemaBlend.
Your Daily Blend of Entertainment News
Thank you for signing up to CinemaBlend. You will receive a verification email shortly.
There was a problem. Please refresh the page and try again.