City Of Heroes/City Of Villains New PC/Mac Trailer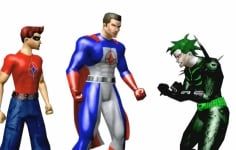 While NCSoft's supposed-to-be-the-next-big-thing has up and died, namely Tabula Rasa, they have reinvested their energy back into the franchise that made them famous, City of Heroes. And if you didn't know, it's now available for Mac users too.
The trailer is just a media spot to keep (or get) people interested in City of Heroes and City of Villains. NCSoft has been releasing several of these vignettes leading up to the MMO's availability on the Mac. This particular trailer is kind of funny in that we see the hero and the villain desperately trying to turn a wannabe hero into either a sidekick or a henchman. The part about the hero's tights is especially laugh worthy. Sort of.
Anyway, you can check out the new trailer below, and you can look for City of Heroes/City of Villains for both the Mac and PC. You can learn more about City of Heroes/City of Villains by visiting the Official Website. For more gaming news and updates, be sure to stay tuned in with Blend Games.
Staff Writer at CinemaBlend.
Your Daily Blend of Entertainment News
Thank you for signing up to CinemaBlend. You will receive a verification email shortly.
There was a problem. Please refresh the page and try again.