Classic PC Adventure I Have No Mouth, And I Must Scream Now Available On Mobile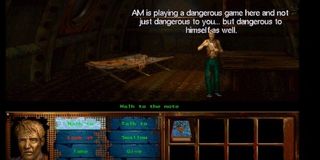 During the golden era of PC adventure games like MYST, Sanitarium, American McGee's Alice and Goosebumps: Escape From Horrorland, gaming was defined by a gripping narrative and an adventure you only wish you were cool enough to find yourself on. This was a time when movies like Indiana Jones were blockbuster hits, when it seemed no one could get enough of a good, gritty adventure. Now, one of those classic PC adventure games is making a comeback via mobile.
I Have No Mouth, And I Must Scream takes place in an apocalyptic future, 109 years after a supercomputer by the name of AM wiped out most of the planet. In result, there are only five humans remaining on Earth—and the player is one of them.
The game is based on a short sci-fi thriller with the same title by Harlan Ellison, and it's pretty twisted. One of the survivors, Ellen, is the only female left on Earth and she was supposedly still a virgin, but AM messed with her brain so she craved sexual intercourse. And that's just one of the strange parts of the short story. The game is just as trippy as the story. You can view the gameplay trailer for the IOS and Android version below.
I'm not sure this is a horror adventure game I'll be picking up anytime soon, but it might be nostalgic for those who miss pc gaming from the 90's. Both the game and the short story have made impressions on readers and gamers alike.
You can get your mobile version of I Have No Mouth, And I Must Scream in the Apple iOS store (opens in new tab) or the Google Play app store.
Your Daily Blend of Entertainment News
Thank you for signing up to CinemaBlend. You will receive a verification email shortly.
There was a problem. Please refresh the page and try again.