Codemasters Gives Up On FPS Genre, Shuts Down Studio Behind Bodycount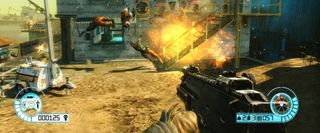 Thank you Codemasters! It's sad that the publisher is only now moving in a new direction within the industry, and away from FPS games, after 70 talented game designers lost their jobs, but sometimes that's what it takes to get the sheep from grazing with the wolves.
Develop is reporting that Codemasters' Guildford studio is shutting its doors. It's the same studio responsible for Operation Flashpoint: Red River and the easily forgettable shooter, BodyCount. Not to be crass, but another run-and-gun, arcade shooter inspired by Call of Duty is really the last thing the industry needed and it was obvious the game wasn't going to sell very well, especially considering that the one feature that could have saved the game (i.e., environment shredding and deconstruction) was heavily scaled back due to RAM issues on the PS3 and Xbox 360. Basically gamers were left with the shell of an idea in another standard-fare shooter, and reviews and sales reflected that.
Accordingly, 66 members from the Guildford Studio will be placed in a consultation phase and appropriately moved to either the Warwickshire site or the Birmingham site under Codemasters' in-house development wing.
In a statement released to Develop, a spokesperson for Codemasters stated that…
Again…thank you Codemasters! The over-saturation of generic FPS games at the moment, all aiming to cash in on the Call of Duty bug is only hurting the industry. I'm glad they didn't try to reorganize and re-attempt another FPS, because it only would have spelled further doom for the publisher. They stated that they will be working on a new IP as they strengthen their position within the racing category. It will be interesting to see what their new racing IP will be and what direction they will go in within the genre.
Hopefully for those who lost their jobs at the Guildford studio, they will find a new home at another studio elsewhere…and perhaps, maybe they won't get attached to another FPS clone project.
Your Daily Blend of Entertainment News
Staff Writer at CinemaBlend.