Command And Conquer 3 is heading to the 360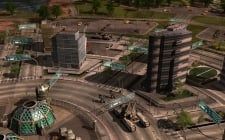 Microsoft might just have filled a niche with their Xbox 360 console: the addition of strategy games. Microsoft is looking to make waves with the real time strategy (RTS) game, Command and Conquer 3: Tiberium Wars, which is now heading to the 360. This follows the critically acclaimed port of Lord of the Rings: Battle for Middle Earth II on the Xbox 360, which was able to effectively map the keyboard controls of the PC version onto the 360's console controller. For the longest time, the strategy game genre has been outside of the realm of console systems and stuck inside the PC market, largely because of the control schematics that they utilize. Now that the 360 seems to have overcome some of the limitations with the controls for RTS games, there's a strong chance that we'll see more strategy games on the 360.
The 360 will support online multiplayer and additional downloadable content through Xbox Live Marketplace for C&C3, as well. Plus, Xbox Live will be connected to the internet and PC's through Live Anywhere (thanks to Windows Vista), which will make it even less of a problem of buying RTS games for the Xbox 360. This should hopefully begin a trend of RTS games heading to the 360, if C&C3 does well.
Now that the 360 has the potential for a RTS game market, it needs to corner the breakfast market. Hey, if it can do RTS games, is should be able to make pancakes for breakfast. It's the next logical step, after all.
Your Daily Blend of Entertainment News
Thank you for signing up to CinemaBlend. You will receive a verification email shortly.
There was a problem. Please refresh the page and try again.