Consumers Pay $129 More For New $99 Xbox 360 Promo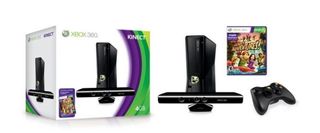 You know that new $99 Xbox 360 promo Microsoft has been proudly touting like a cigarette user touts a nicotine patch to let everyone know they're off the ciggs? Or how sex addicts wear a "I'm Sex-Free" sticker on their shirt to let everyone know they're not getting any? Well, turns out that the $99 Xbox 360 promo is more of a blatant ripoff than if you bought the system and two years worth of Xbox Live from a number of other places, in fact it's an average $129 ripoff according to DealNews.
Yesterday it was announced that gamers could pick up an Xbox 360 and Kinect bundle for only $99. The catch was that you had to sign-up for a contract-based Xbox Live subscription for two years at $14.99 a month. It's like putting the 360 in a layaway except you get to take it home with you once you put down the initial $99 down payment. The crazy part about it is that the $99 promo bundle actually totals up to $458, before taxes. What's worse is that there's a stipulation fee where if you decide to buy the $99 Xbox 360 and Kinect bundle and then cancel your subscription to Xbox Live, you'll be charged a hefty sum for a breach of contract. Yeah, Microsoft just got legal on your arses.
Anyway, DealNews was crunching some numbers and running some figures and it turns out that this deal is far off from what you could be getting if you just did a little shopping around, or alternative, simply headed to Amazon where the Kinect bundle is available for $277.00, a big difference between $458 or PriceDrop where the bundle is actually available for only $190.00, which is a pretty good deal and about a $268 difference from that $99 rip.
You can also buy Xbox Live subscriptions separately by purchasing sub cards. You can get some at varying prices but most range between $40 and $60. Heck, even if you got a two year Xbox Live Gold subscription and purchased the Kinect 4GB Xbox 360 bundle for $190 from PriceDrop that totals up to $270, which is still a $188 difference than paying that ridiculous fee attached to the $99 Xbox 360 promo bundle that Microsoft is advertising.
As usual, this is definitely one of those Hold The Wallet moments because anyone buying the $99 Xbox 360/Kinect bundle will clearly find themselves getting screwed.
While an Xbox 360 plus Kinect plus two-years of Xbox Live looks appealing for the initial entry price of $99, it's just a ruse to get you to spend more than you have to. If you really want a cheap Xbox 360 check out a few of the places listed at DealNews, amongst other places, which will actually help you save money as opposed to getting you to spend more.
Staff Writer at CinemaBlend.
Your Daily Blend of Entertainment News
Thank you for signing up to CinemaBlend. You will receive a verification email shortly.
There was a problem. Please refresh the page and try again.