Corsair Vengeance K95 Keyboard, M65, M95 Mice Announced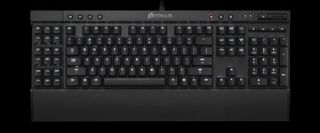 Earlier today Corsair announced their line-up of Raptor and Vengeance gaming peripherals would be made available in both North America and Germany, but that's not all. Corsair also unveiled that they have a new generation of high-end gaming gear available with the Vengeance K95 Gaming Keyboard and the Vengeance M65 and M95 Mice.
Corsair's line of gaming gear is scheduled to start rolling out this month and will continue on up to spring. They'll start with their M65 and M95 mouse brands, offering gamers Avago Technologies ADNS-9800 LaserStream gaming sensor tech in a high-precision 8200 DPI sensor with a 30% boost in tracking resolution.
The M95 is similar to the M65, save for the fact that it's been designed specifically for MMO gaming enabling users to make use of 15 programmable buttons so you can PvP until the competition is an irascible mush of rage quitters and haters. Programmable lifts, fast scroll wheels and PTFE glide pads help round out both the M65 and M95's features.
The K95 Keyboard is also geared toward the most hardcore of hardcore, with no-slip rubber corners so your palms don't grease up the thing from sweaty late-night battles, and 3-millimeter thick aircraft-grade aluminum means it has a flatter, more stable surface.
Ruben Mookerjee, VP and General Manager of the Peripherals Business Unit at Corsair commented about both the new mice and keyboard, saying...
The M65, M95 mouse brands will be available this month along with the special double-sided MM600 gaming mouse pad. The mice will be available at $69.99 and $79.99 respectively. The K95 keyboard is scheduled to release this spring for $149.99.
Need more info? Feel free to visit the Official Website (opens in new tab).
Staff Writer at CinemaBlend.
Your Daily Blend of Entertainment News
Thank you for signing up to CinemaBlend. You will receive a verification email shortly.
There was a problem. Please refresh the page and try again.