Crash Bandicoot: Mind Over Mutant Now Available For Xbox 360, Wii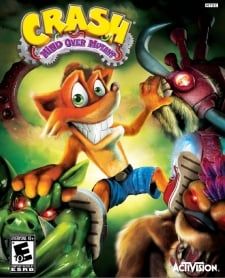 That pesky bandicoot is at it again. I remember at one point in Crash's career, he was the official mascot for Sony's PSX. But now he's been prostituted out to different consoles with meager success. Still, that doesn't stop some of his games from being fun. And you can now prepare for another of Crash's exploits in the recently shipped, Crash Bandicoot: Mind Over Mutant for the Xbox 360, PlayStation 2, Nintendo Wii, Sony PSP, and Nintendo DS.
Featuring a two-player co-op mode, allowing the control of both Crash and his sister Coco, some extra abilities (such as "jacking" bad guys and controlling them), and a large Wumpa Island to explore, you can never say that this Bandicoot isn't trying to step out of the box.
"Crash Bandicoot is one of the best loved characters in video games – we're excited to bring him to next-gen and feature co-op play for the first time in this all-new adventure," said David Pokress, head of marketing for owned IPs, Activision, Inc. "Crash: Mind Over Mutant is a family-friendly title that captures the humor and charm of Crash Bandicoot, along with all his hilarious antics that will keep both kids and parents entertained this holiday season."
You can drop by the Official Crash Bandicoot Website (yes, there really is an official Crash Bandicoot website) for more info on the game. Alternatively, you can watch the launch trailer below and check out some new screenshots of the game as well. And remember to stay tuned in with Blend Games for more news and info on the latest titles.
Staff Writer at CinemaBlend.
Your Daily Blend of Entertainment News
Thank you for signing up to CinemaBlend. You will receive a verification email shortly.
There was a problem. Please refresh the page and try again.