Crysis 3′s New York Setting Not Recycling Assets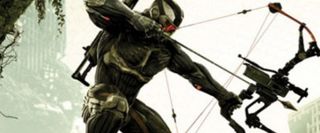 It was a disappointment for some that successor Crysis 3 will be returning to New York, the setting of Cryris 2. Crytek, however, stated they haven't chosen NYC simply to make it easier for themselves.
"One thing I want to underline is that we did not do this because it's easier for us. All of the assets have been created from the ground-up. There is nothing left of the New York you saw in Crysis 2. As you saw in the demo, there's no resemblance to what we did before," said Crytek's director of creative development Rasmus Hojengaard to RPS (opens in new tab).
"I mean, the example I've used is let's say there's a war, and your hometown is bombed, and so is your friend's. Going to see your hometown is going to be completely different from your friend's because you already have a connection to that place versus a place you've never been before. Although it's obviously not the same [with Crysis 3], it's still a little bit of that principle."
Continuing his thoughts on why the developer chose to return to New York for Crysis 3, Hojengaard told Polygon (opens in new tab): "At the same time everybody was really in love with the idea of bringing heavy vegetation back into the game, like whenever you haven't done something for a while, you want to go back and do that again. At the same time, there was also something cool about the urban situation, but we didn't want to create something we had seen before. So we said why don't we merge the two, and create an organic city, basically, an organic urban scenario."
Crytek recently boasted about what they can achieve with current-generation consoles in terms of graphical attributes. The developer's bold claims were also echoed by Hojengaard.
"We're still in production, but we're doing stuff far and above what we could do in Crysis 2. From a technical point of view, we're prototyping render features now that have never been seen on consoles before from any studio. We'll need to see what we can actually use in the final game, since it all boils down to performance, but it looks pretty promising."
"We actually managed to figure out ways to use that on console. Obviously it's not in the exact same way as on PC, but the end result is largely the same. We'll push as much as we possibly can in the hardware performance spectrum. We want to push the high-end benchmark of what's possible on PC, but also on consoles," concluded Hojengaard.
Crysis 3 sees returning protagonist Prophet embarking on a revenge mission set within a dome. This was showcased for the first time with the shooter's debut gameplay trailer. The full game, meanwhile, is due for a spring 2013 release on the PlayStation 3, Xbox 360 and PC. A Wii U version has been ruled out.
Your Daily Blend of Entertainment News
Thank you for signing up to CinemaBlend. You will receive a verification email shortly.
There was a problem. Please refresh the page and try again.