First Crysis 3 Gameplay Trailer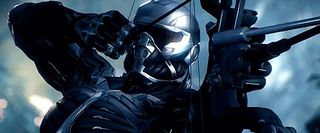 Upon Crysis 3's announcement by Electronic Arts, footage teasing the first gameplay trailer was released. The full trailer has now arrived and gives fans a glimpse of what to expect from the shooter.
The video showcases protagonist Prophet facing off against enemies within the returning location of New York City. The footage displays the NYC Liberty Dome, where Crysis 3 is set. It was created by the corrupt Cell Corporation after the events of Crysis 2.
The dome, publisher Electronic Arts says, will deliver "seven distinct and treacherous environments" which "become known as the Seven Wonders".
Crysis 3, which utilizes CryEngine 3 and will follow the gameplay direction of the original Crysis, is currently scheduled for a release during spring, 2013. It'll be released on the PlayStation 3, Xbox 360 and PC.
Your Daily Blend of Entertainment News
Thank you for signing up to CinemaBlend. You will receive a verification email shortly.
There was a problem. Please refresh the page and try again.