DC Comics Fighting Game Injustice: Gods Among Us Coming In 2013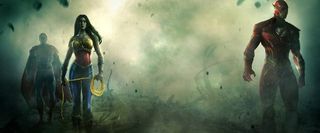 Mortal Kombat developer NetherRealm Studios announced their next game today. Instead of churning out another MK title, they decided to make a fighting game starring DC Comics characters like Batman and Wonder Woman.
Injustice: Gods Among Us is said to have a "deep, original story" but no other details are provided. You're not going to be playing for the story, though, are you? You're going to play so you can see Solomon Grundy fight Superman, the Flash fight Harley Quinn, and so forth.
This wouldn't be the first time that the Mortal Kombat team has worked with DC Comics. Back in 2008, they made a cross-over fighting game Mortal Kombat vs. DC Universe. It was a poorly-received game, due in part to how completely bugshit the story was. Injustice will need to have a somewhat wacky plot to explain why Superman is fist-fighting Wonder Woman. However, it should be a little more grounded than MK vs. DC if only because NetherRealm doesn't need to combine the lore of two completely different franchises here.
I'm a bit surprised by the title of the game. It's a lot more low-key than I would've expected. It doesn't mention DC Comics or any of the big-name characters. I would've expected something like DC Comic Super Brawl: I Bet Batman Could Kick Superman's Ass. Maybe having those characters on the box art will be enough to draw people in, though.
Injustice will hit the Xbox 360, PS3 and Wii U next year.
Image 1 of 3
Image 2 of 3
Image 3 of 3
Staff Writer at CinemaBlend.
Your Daily Blend of Entertainment News
Thank you for signing up to CinemaBlend. You will receive a verification email shortly.
There was a problem. Please refresh the page and try again.