DC Universe Online Lightning Strikes DLC Features The Flash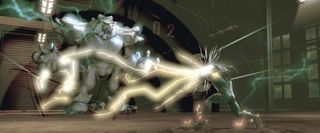 Sony Online Entertainment revealed today that they'll be releasing a second downloadable content pack for PS3 and PC MMO DC Universe Online. "Lightning Strikes," due later this year, is centered around speedy super hero The Flash.
The DLC introduces a new Central City map with both solo and group missions. You can even travel back to Central City's past and witness the moment when Barry Allen first became the Flash. Players will be able to interact with The Flash as well as other characters from his comics, including Livewire and Black Lightning.
Players will also get access to a new Electricity power set that can be used by current or new characters. One sample power is the Tesla Ball, a ball of electricity that zaps any nearby foes. These powers aren't merely offensive, though. The Ionic Drain ability lets you drain energy from the surrounding environment and heal yourself as you damage enemies.
All Legendary members of DCUO will be able to download "Lightning Strikes" for free. Free and Premium players will have to pay $9.99 for the content.
Image 1 of 3
Your Daily Blend of Entertainment News
Staff Writer at CinemaBlend.
Your Daily Blend of Entertainment News
Thank you for signing up to CinemaBlend. You will receive a verification email shortly.
There was a problem. Please refresh the page and try again.