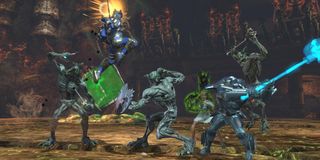 The new downloadable content for DC Universe Online will be called "Sons of Trigon." In this new expansion, the eight for DCUO since it launched, will allow players to team up with Wonder Woman or her arch-enemy Circe.
The "Sons of Trigon" DLC begins after the "Sins of the Father" storyline. The demon Trigon has been trapped in a nightmarish alternate version of Gotham City. Players decide to confront him and his minions in this wasteland. They'll battle the demons in daily solo missions. Story-based quests will allow them to fight Trigon's six sons, each representing a different deadly sin. Then, after these sons are taken care of, players will confront Trigon.
"In Sons of Trigon we finally get the answers to some critical questions that have been left unresolved since DCUO launched more than two years ago," said Jens Andersen, senior creative director of the game. "Players get to explore a nightmare version of Gotham like nothing they have seen before, while battling alongside Wonder Woman or Circe to eventually defeat Trigon and restore peace, or steal Trigon's power for their own use."
Players will have new ways to strengthen their characters in this DLC. A new Celestial power set provides players with healing-focused abilities. The new gear in "Sons of Trigon" includes PvE equipment based on Brother Blood and Raven's gear. SOE also included new Feats and Collections for you completionists out there.
The expansion will add two new Legends characters for player-versus-player as well. Both are related to Wonder Woman. Heroes will have access to Donna Troy, also known as Wonder Girl. The new supervillain option is Cheetah, the super-fast adversary of Wonder Woman.
"Sons of Trigon" will be free to download for Legendary members. Free and Premium players will have to purchase it, though. Expect the expansion to go live this fall on both the PS3 and PC.
It's going to be a busy fall in DC Universe Online. In addition to this new expansion pack, players can look forward to a PS4 version of the MMORPG in late 2013 as well.
Image 1 of 6
Your Daily Blend of Entertainment News
Staff Writer at CinemaBlend.