DOOM Is Already Being Offered For Under $50 With This Promo Code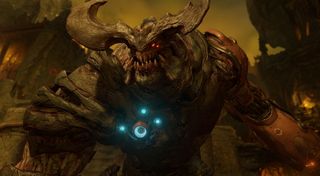 Bethesda and id Software's DOOM is available right now. The May 13th release date has arrived and the game is out and available for the Xbox One, PS4 and PC. Despite the $60 price tag at most retailers, some online shops have discount codes to knock off $15 from the purchase.
According to Gamespot, Newegg has the following $15 off promo code for a single purchase of DOOM when used at checkout: EMCEJFH69
The code is only good for one copy of the game on a single platform. So if you wanted to pick up two copies of DOOM for comparison purposes, or to have one on PC and one on PS4 or Xbox One in case your PC can't handle it or whatnot, you won't be able to grab two copies at a discounted rate. One would be for $45 and the rest would still be for the normal $60 SRP.
You can get the game through Newegg with normal shipping between four and seven business days.
In the comment section of the Gamespot article, one individual mentioned that Best Buy has a promotion currently going on for the Best Buy Gamers Club that knocks the price down of DOOM from $60 to $43.
You won't be able to see the price change at Best Buy just by visiting the site. If you go there now they'll basically have the standard listings for DOOM, but they do have a banner up on the site that mentions that if you attempt to purchase new games from Best Buy as part of the Gamers Club, you will get a $30 gift card and up to 20% off on new videos... like DOOM.
Of course, not everyone will want to become a registered member of Best Buy's Gamers Club, so the Newegg option offers a discount with no real strings attached.
DOOM has launched out of the gate with a lot of chatter on social media so far. Bethesda opted not to send out early review copies of the game, opposite of Sony and Naughty Dog and what they did with Uncharted 4, so the general feedback and consensus about the game is mostly coming from people who pre-ordered the title or those who picked up a copy on day one.
Given the game's controversial history with depictions of violence in gaming media, it's not surprising that Bethesda might want to limit some of the overt criticisms that might attack the game purely for its blood and gore and not necessarily for the merit of its gameplay mechanics and fun factors. Then again, they may have opted to not send out review copies early because they just don't think it's a very good game.
Regardless of the critics' impressions (or lack thereof), DOOM features a robust single-player campaign with multiple difficulties, brand new weapons, a brand new upgrade and customization system for the weapons, many of the familiar faces from the original DOOM and a couple of new ones.
The game also sports the very highly anticipated SnapMap feature that lets players build their own stages and share them with the world. You can pick up a copy right now from participating retailers for $60 or use the Newegg promo above during checkout to get the game for $45.
Staff Writer at CinemaBlend.
Your Daily Blend of Entertainment News
Thank you for signing up to CinemaBlend. You will receive a verification email shortly.
There was a problem. Please refresh the page and try again.