New DOOM Trailer Shows Off All Nine Multiplayer Maps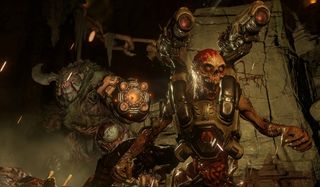 While the campaign in DOOM is entertaining enough, the game is really about the multiplayer matches. And now Bethesda Softworks and id Software have released a new trailer that teases all nine of the multiplayer maps coming to the game—and they are as hellish as you were hoping. You can view the trailer below.
The maps showcased in the video are Helix, Disposal, Chasm, Infernal and Beneath, but the maps that are barely teased with a split-second shot in the video include Perdition, Excavation, Heatwave and Sacrilegious.
It's obvious the theme here is Hell, because each map showcases its own bit of hellish gameplay. Disposal looks like the wasteland from a dangerous chemical dump, for example, and Chasm takes players into the depths of a damp cave. Although I think it's safe to say the gameplay that we see in the trailer appears just as panicked as we remember from DOOM games, keeping that very familiar and beloved style.
I've really only played DOOM once or twice in my life—I was always more of a Quake person. I think that's just how things turned out for me. But now with this reboot, and my love for games like Quake (especially the multiplayer bit of gameplay), it's hard to turn away from wanting to give the new DOOM a go.
If you pre-order the Xbox One version of the game, you will get a digital copy of DOOM and DOOM 2, which is quite a steal for a pre-order bonus. DOOM will be releasing on to PC, Xbox One and PlayStation 4 on May 13. For more information, you can visit the official DOOM website.
Your Daily Blend of Entertainment News
Thank you for signing up to CinemaBlend. You will receive a verification email shortly.
There was a problem. Please refresh the page and try again.