New DOOM Trailer Highlights Demons And Power Weapons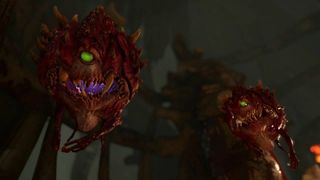 The more we see of the new and upcoming DOOM, the more we can't wait for its release. While many of us spent much of our childhoods huddled over a computer playing multiplayer matches of DOOM and Quake, id Software knows exactly what we're asking for when it comes to the newest installment of DOOM. And this new trailer shows off the best of the new brutal demon transformations, power weapons and even power-ups.
As you can see in the video, there will be a number of different demons you can transform in during gameplay. There will be four total playable demons that you can transform into, if you're lucky enough to find a power-up that let's you do so. But if your enemy finds that power-up instead, watch out. Because these demons can do some serious damage.
The power weapons players can expect to get their grubby hands on include the chainsaw, gauss cannon and BFG. There really isn't a DOOM game without the notorious BFG. But the chainsaw offers a gory alternative with footage showing the opponents being torn to shreds.
Growing up, I was always a huge fan of Quake games, and my whole family would play together on our computers. And coming from the same developer, DOOM is a sweet, nostalgic reminder of my childhood in gaming. Bethesda has been trickling out a number of trailers that show a little bit of the rebooted DOOM bit by bit. And more and more, fans are pulled in. Matter of fact, the closed beta isn't too far away; the closed beta starts March 31. But don't forget, that's only if you purchased Wolfenstein: The New Order On PS4 or PS3 and got the special DOOM closed beta code with it. Those eligible can expect the closed beta to run through April 3.
DOOM will be releasing into PS4, Xbox One and PC on May 13. If you would like more information on the closed beta, you can visit the official website.
Your Daily Blend of Entertainment News
Thank you for signing up to CinemaBlend. You will receive a verification email shortly.
There was a problem. Please refresh the page and try again.