Dance Central 3 Demo Arrives On Xbox Live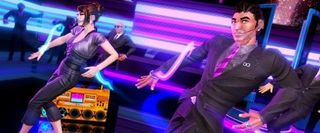 Starting today gamers eager to shake their rump can try out Harmonix's Xbox 360 Kinect exclusive Dance Central 3. The rhythm game's demo is now available through Xbox Live.
The demo allows you to dance to Jennifer Lopez's "On the Floor," Maroon 5's "Moves Like Jagger" and Nicki Minaj's "Starships." Those are just a small sample of the 40 songs that will ship on the game's disc. Though all the songs in the demo are modern hits, the full game will have songs from the 90s, 80s and 70s as well.
If you're hosting a party this week, you can try out the game's Party Time mode. Party Time essentially puts the game into a standby mode. Anyone can jump in and start playing by standing in front of the TV and high-fiving the person next to them.
Dance Central 3's full version has a storyline featuring time travel. The dance crews, part of an organization called Dance Central Intelligence, travel back in time to discover dances from the past. They then use this knowledge to prevent dance crimes in the present day.
DC3 lets up to four players dance along to songs playing onscreen. A new Crew Throwdown mode lets two teams compete in a series of competitions. Other features include a Beginner mode for newcomers and a "Make Your Move" mini-game that lets you design your own routines.
Harmonix will release DC3 on October 16th in North America. The game will then spread to other territories later that week.
Staff Writer at CinemaBlend.
Your Daily Blend of Entertainment News
Thank you for signing up to CinemaBlend. You will receive a verification email shortly.
There was a problem. Please refresh the page and try again.