Dark Souls 2 Review Says It's The Hardest Action RPG In The World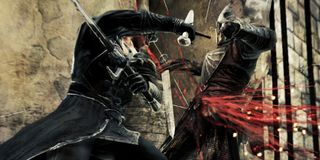 The first review for From Software's Dark Souls 2 has been published. German gaming mag M! gave the action RPG a glowing write-up.
M! (via NeoGAF) says that it's "the hardest action role-playing game in the world." They add that it's "more comfortable, magnificent, extensive" - compared to the first Dark Souls, I assume.
It sounds like Dark Souls 2 will occupy you for many late nights as well. M! says that their reviewer sank 60 hours into the game. That's comparable to the length of the first Dark Souls. Your total time commitment in both games will vary depending on whether you go for multiple playthroughs or side content, though.
M! gave the game a 90, according to readers who have already received the magazine. For basis of comparison, they gave Dark Souls an 81% and spiritual predecessor Demon's Souls an 82%. I wouldn't read too deeply into the difference in scores, though, because we don't know whether the same reviewer handled all three. Plus, review scores aren't exactly scientific.
We shouldn't have to wait long for additional reviews. I suspect the general embargo will be lifted real soon and a flood of other early impressions will be released onto the web. I'm glad that DS2 publisher Namco Bandai has allowed reviews to be published before launch so gamers can make an informed decision. It fits with their aggressive marketing strategy with the game. A barrage of good reviews prior to release could help Dark Souls 2 win over a wider audience than the previous Souls games.
Dark Souls 2 will officially launch on March 11th in North America and on March 14th in PAL territories. The game will be available as part of a Standard Edition, Black Armor Edition and Collector's Edition.
Also, in case you missed it, From Software released a "Hollow Lullaby" trailer yesterday. It shows off several locations from the game as well as a battle with a red dragon. Check it out below.
Image 1 of 6