Darksiders: The Abomination Vault, Darksiders World Bible Coming This Spring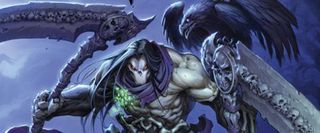 THQ and Random House that they're teaming up for two books based on the Darksiders series. An original novel, Darksiders: The Abomination Vault, and a guidebook, The Darksiders World Bible will both hit stores in a few months.
Abomination Vault, due in May, is set thousands of years before the first Darksiders game. The Horsemen of the Apocalypse, the powerful beings who maintain the balance between Heaven and Hell, have discovered a plot that could plunge the universe into chaos. The Horsemen Death and War must find and stop the unknown conspirators.
The novel was penned by Ari Marmell. The Austin-based author has also written novels in the Magic: The Gathering and Vampire: the Masquerade universes as well as original works like Goblin Corps. He's contributed to several pen-and-paper RPG's, such as Dungeons and Dragons.
"This book was an absolute blast to write," Marmell said on his personal website. "It's easily the most cinematic/action-oriented of my books thus far, and I've tried to make sure it's accessible even to people who aren't familiar with the games. I really hope you guys have as much fun with this as I did."
The Darksiders World Bible, a guide to the series' lore, will launch alongside Darksiders II. THQ hasn't announced a Collector's Edition of D2 yet. If there is one, it's possible this book will be part of it. Seems like a natural fit, anyway.
Darksiders II is expected in June of this year.
Staff Writer at CinemaBlend.
Your Daily Blend of Entertainment News
Thank you for signing up to CinemaBlend. You will receive a verification email shortly.
There was a problem. Please refresh the page and try again.