Dead Space Producer: Gears of War Has The Worst Writing In Games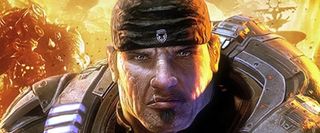 What does the story producer of the Dead Space franchise think of the writing in Epic Games' Gears of War series? According to Chuck Beaver, the shooters feature "literally the worst writing in games".
Beaver spoke about stories in games during an official interview with Electronic Arts. The story producer for both the original Dead Space and its successor, who prior to his position at Visceral Games worked on James Bond titles 007: NightFire, Everything or Nothing and From Russia With Love, stated that many players don't mind Gears of Wars' story issues and enjoy the action-packed FPS for its gameplay.
When asked whether a title's story can ruin a good game, Beaver explained: "Story can only ruin a game for those people who care about story, so it's a conditional answer. For instance, Gears of War. It contains atrocious, offensive violations of story basics. Yet it doesn't seem to ruin it for many, many people. It's literally the worst writing in games, but seems to have no ill effects."
While he was skeptical of the story in the Gears of War franchise, he also admitted that Dead Space's story wasn't all too great either. He stated that Dead Space "was just a simple haunted house story".
Many may disagree with that notion, though. One aspect of Dead Space which made it shine among critics and gamers alike was its compelling story, which was continued in the fantastic Dead Space 2. Beaver did have some positive things to say about Cliffy B's dude-bro shooter, saying: "First, let me say that I'm a huge fan. It is an epic franchise that has trail-blazed more than a few industry-leading player experiences and mechanics. It is deservedly recognized as a top-tier title. Its success as a property is evidenced by its giant sales and rabid fan base. The industry is far better for Epic's contributions, and we all owe a great deal of inspiration to their work."
While Gears of War fans may also disagree about the series' story, its creator Cliff Bleszinski had stated to IGN he wishes to see future installments in the IP to strike a resemblance with Christopher Nolan's Batman films and less like the Batman films headed by Tim Burton or Joel Schumacher.
"I didn't always make these dude-bro games at Epic. The intent was to make [Gears of War] a lot more Band of Brothers and take it a lot more serious," said Bleszinski.
In terms of what title Beaver believes to be a good example of having a quality story, Valve's Portal 2 was pointed out which "succeeds at least as much on its writing as its masterful platformer level design".
Lastly, the Dead Space story producer said "Does everyone hate Transformers? Some yes, some no. Some people like brainless Michael Bay stuff, others hate it. The same thing will apply to us."
Your Daily Blend of Entertainment News
Thank you for signing up to CinemaBlend. You will receive a verification email shortly.
There was a problem. Please refresh the page and try again.