Deadly Premonition Gets Massive Visual Companion For iPad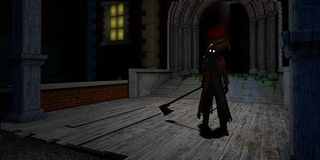 Like a gnarled old tree at the heart of the forest, Deadly Premonition's roots are digging deeper and deeper. What began as an Xbox 360 budget title has since gone on to claim a new audience on the PlayStation 3 and, soon, will continue to spread its insanity to the PC. Now players can get to know the city of Greenvale better than ever, though, as the Deadly Premonition: The Director's Cut: The Official Visual Companion prepares to launch for iPad.
You remember Deadly Premonition, don't you Zach? That's right, it was that wonderfully campy video game based on our investigations into the red seed murders in the sleepy little town of Greenvale. Despite being surrounded by all of that death, we really had a good time getting to know the locals, exploring the city, going fishing and uncovering the mysteries that have plagued the burg for decades.
Coming from Rising Star Games, Deadly Premonition first took root on the Xbox 360, growing an underground fan base that was willing to overlook the game's technical and visual shortcomings in order to enjoy the truly unique, wholly bizarre murder mystery that beat at its core. The Director's Cut launched for the PlayStation 3 earlier this year, offering enhanced graphics, new content and a few other tweaks. Now that it's proven successful on Steam's Greenlight, an even more enhanced version is heading to PC, too.
So, now that pretty much everyone has the ability to enjoy the game, Rising Star is gearing up to release a massive 352-page touch-responsive iBook companion that will let you dive deeper into the world of Deadly Premonition than ever before. Here's a rundown of what the Visual Companion will offer once it's released on Oct. 4 though, sadly, no price point has been announced yet.
-Over 100 interactive elements and additional hidden secrets.
-Read Swery 65's developer notebook, read behind the scenes notes, storyboards and more.
-Three interactive maps showing everything in the game.
-262 gallery images with never-before-seen concept art
-Play with a "Listen Here Zach" soundboard.
-Listen to the game's soundtrack.
-Games, puzzles and a crime scene creator widget.
I have to admit that that all sounds very, very lovely. Call me crazy, but this is the first thing I've seen that truly makes me wish I owned an iPad. A big fan of the game, this is the kind of thing I could see myself sinking a ridiculous amount of time into.
If you find yourself in the same boat, you only have about a month and a half before you can finally pick it up via iTunes. But don't worry about trying to remember that fact, as you can go ahead and pre-order (opens in new tab) the Visual Companion right now.
Staff Writer for CinemaBlend.
Your Daily Blend of Entertainment News
Thank you for signing up to CinemaBlend. You will receive a verification email shortly.
There was a problem. Please refresh the page and try again.