Defense Grid: Awakening Is The First Games With Gold Free Offering On XBLA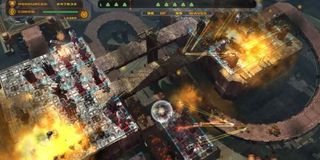 Microsoft is making good on its "Games with Gold" promotion today with the first free game to be offered to Gold Subscribers. Get ready for some tower defense action in Defense Grid: The Awakening.
Announced during the Xbox E3 2013 press conference, Games with Gold is Microsoft's promotion to pass out two free games per month to XBLX Gold subscribers. Similar to one of the benefits of PlayStation Plus, Games with Gold might not be offering as many games per month as Sony's service, but the games they're giving out don't go away if you quit subscribing, as fare as we've heard.
Games with Gold also is not currently planned as a permanent fixture of the Xbox 360 ecosystem, only running from July through the end of the year.
The promotion is pretty simple: One free game will come out on the first and 16th of every month. When each new game comes out, the previous free game disappears. Rinse and repeat on a monthly basis for the next six months.
When Games with Gold was originally announced, it was stated that titles like Assassin's Creed 2 and Halo 3 would be offered through the service. The first installment in the promotion, though, will have you defending towers rather than sprinting across rooftops or taking out aliens scum with a Plasma Rifle, according to the Major Nelson Blog.
Hidden Path's 2009 XBLA title, Defense Grid: Awakening has the honor of being the first Games with Gold offering, available starting today and free through July 16 for Gold subscribers. Usually going for 800 MSP, Defense Grid is all about managing resources and setting up protective structures to keep the invading forces at bay.
So, what do you think of this first Games with Gold offering? Free is free, right? Maybe you haven't tried it out yet and are excited to do so at no cost? Perhaps you were hoping for something a bit, shall we say, bigger? Let us know how you feel in the comments section below.
Image 1 of 6