Destiny Isn't 60fps On PS4, Xbox One Due To Being Cross-Gen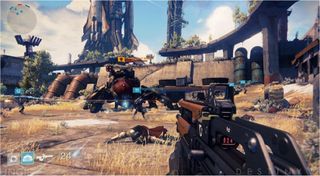 It was revealed not too long ago that Destiny was confirmed 1080p and 30fps on both the PlayStation 4 and the Xbox One. Quite naturally, a lot of gamers were curious exactly why the game was only 30fps when games like Tomb Raider: Definitive Edition managed 1080p and 60fps on the PS4, Shadow Warrior is 1080p and 60fps on the PS4 and Wolfenstein: The New Order is 1080p and 60fps on both the PS4 and Xbox One.
Well, GamingBolt spotted a comment from Bungie's senior environment artist, Jason Sussman, who explained why the game was not 1080p and 60fps on the eighth-gen consoles, telling Venture Beat that...
Gamers have recently been getting irked at the idea of cross-generation games for the very thing that Sussman explains above. You've essentially paid top dollar for an eighth-gen console, yet you're getting last-gen features with a slight bump in resolution.
On the upside, Sussman at least mentions that there will be a lot of player activity on the new-gen consoles to compensate for a lack of maintaining 60 frames per second, saying...
Strangely, Sussman doesn't say exactly how many players will be on the screen at once during the Crucible and whether or not there will be disparity between the seventh generation consoles and the eighth generation consoles.
It almost sounds like if you want a graphically smooth playing experience you'll want to get the game on the PS4 or Xbox One, but if you haven't already upgraded then Destiny is not a game that you'll need to or readily want to upgrade your console for.
With so much hype riding on the success of the first entry in what's supposed to be a decade-long venture, Bungie has to ensure that deliver and deliver big with this new game. There are already some worries about Destiny's features that they will likely need to address by the time the game is ready to launch. However, a lot of gamers are probably just happy that Bungie extended the alpha as they prep for the game's inevitable pre-launch beta.
Destiny is due for release on September 9th for the Xbox 360, Xbox One, PS3 and PS4.
Update: Bungie felt that additional context was needed to flesh out their explanation of why Destiny is running at the specs that it is, sending over the following, more fleshed out explanation...
Your Daily Blend of Entertainment News
Staff Writer at CinemaBlend.