Destiny PS4 And Xbox One Free With PS3 Or Xbox 360 Copy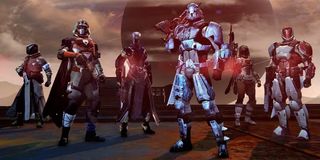 If you want to start playing Destiny next week but haven't bought a new console yet, Activision's got an intriguing offer for you. They're going to let you upgrade to the PS4 or Xbox One version of the game for no charge.
The free upgrade is available to anyone who purchases the Xbox 360 or PS3 version of Destiny on or before January 15th, 2015. The deal applies to the digital Standard Edition and Guardian Edition. PS3 owners can get the PS4 version for free while Xbox 360 owners can get the game on XB1. The redemption process is fairly straightforward, according to the official website):
Log onto your PS4/Xbox One that you used to buy Destiny on PS3/Xbox 360.
Find the PS4/Xbox One version of Destiny on the console's online store.
Add the item to your download queue
All of your progress, characters, gear and stats will follow you from one console to the next. Note that these transfers aren't tied to the free upgrade deal. Your data will carry over no matter when you upgrade to the new-gen Destiny. Furthermore, you can continue playing your PS3 or Xbox 360 copy of Destiny with the same characters.
Destiny's Expansion Pass, which includes two DLC packs, can be transferred from PS3/Xbox 360 to PS4/Xbox One as well. The process is more or less the same as getting your free copy of Destiny on PS4 or Xbox One. You just sign into your Xbox Live or PSN account on your new-gen console and then download the Expansion Pass. You have to redeem the Pass on your old console by January 15th to take advantage of this offer.
It's an interesting offer. I was planning to buy a new-gen version of Destiny but now I might go for an older one. It would be nice to be able to play it on two consoles in different rooms, especially if progress is synced.
This deal removes a significant barrier for some players. These gamers are interested in Destiny but still don't want to spend hundreds of bucks on a new console, especially with so many other new-gen titles delayed to 2015. They also don't want to spend money on a last-gen version because then they'd have to buy the game again on a new console. This upgrade program means they don't have to worry about that, though.
I wish more developers offered free upgrades like this. The PS4 and Xbox One are so young that we're seeing a lot of cross-gen games and re-releases. It's a little shitty to ask people to ask players to spend another $60 for a slightly better version of the same game. More gamers would be willing to upgrade to new consoles if they knew that they'd have new versions of their favorite games waiting for them, either free or at a significant discount.
Staff Writer at CinemaBlend.
Your Daily Blend of Entertainment News
Thank you for signing up to CinemaBlend. You will receive a verification email shortly.
There was a problem. Please refresh the page and try again.