Destiny's Poor Metacritic Score Could Cost Bungie Millions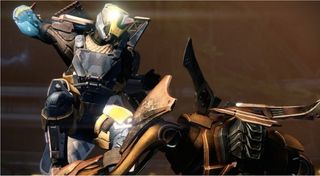 It's often debated that a game's brand worth and the development studio behind it are determined by the Metacritic score – an aggregate of reviews from a collection of websites. This hotly contentious subject has become a topic of discussion recently due to all the middling and less-than-enthusiastic reviews that didn't quite line-up with the hype surrounding Destiny.
Game Planet makes the observation that Destiny's current Metacritic ranking and Gamerankings score are not good, relative to what they needed in order to secure post-launch bonuses.
Over on Gamerankings. the Xbox One version of Destiny sits at 78.42%, with the PlayStation 4 resting comfortably at 76.03%. Over on Metacritic, the Xbox One version of Destiny carries a 79 out of 100 and the the PlayStation 4 version has settled in at 76 out of 100.
The reason this is brought up is because back in 2012 a contract had leaked between Bungie and Activision discussing what sort of conditions the development studio would have to meet in order to payout bonuses. As mentioned in the article from two years ago...
Interestingly enough, I don't think that the five-million SKUs will be a problem for Bungie or Activision. Ubisoft had an internal estimation for Watch Dogs needing to push six-million SKUs before the next fiscal year, and they cleared that number by a sizable margin. A lot of those trumped up figures has to do with the fact that these games with large sales estimates are being released as cross-generational titles, so even if Destiny only sold a million copies on each platform (e.g., Xbox One, Xbox 360, PS3, PS4) they would just need to shift an extra million to hit that margin. Given that they've already sold-in $500 million worth of Destiny copies to retailers, I don't doubt that they'll hit their goal within six months.
However, hitting 90 on Metacritic just isn't happening. It would take quite a few 100/100 entries across the board to boost up the score from where it currently resides.
The likelihood is that Bungie may be out of their $2.5 million bonus from failing to hit the Metacritic target. Of course, it should be noted that depending on how the money was actually distributed to Bungie could determine how stable the studio is for the long haul. The lack of a bonus payout to Obsidian for Fallout: New Vegas for being 1 point off their Metacritic target forced them to layoff staff.
However, if sales are good then it's likely Activision will stick with the brand – they already made back their $500 million investment and it's not unlikely that they have a long roadmap of DLC planned, along with some sequels down the line. I mean, if you break even the first day with sell-ins on a brand new IP, why not milk the brand for everything it's worth?
Your Daily Blend of Entertainment News
Staff Writer at CinemaBlend.