Destiny Reviews: Did Bungie's New Shooter Sink Or Swim?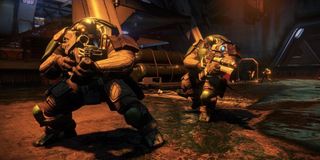 Destiny has been out two days and the first reviews are finally hitting the web. Did Bungie's new franchise end up deserving all those pre-release awards?
If you were expecting Destiny to be a Game of the Year contender, you might be disappointed to hear that the game's only getting mildly positive reviews. The game's at 78% on GameRankings and 81 on Metacritic. That doesn't mean it's a bad game but it's certainly below expectations.
What makes the Destiny's reviews so surprising is how much praise the game had received prior to launch. The launch trailer states it earned 180 awards or nominations from critics. That same trailer was filled with all sorts of glowing praise. For example, The Escapist was quoted as saying it's "masterful game-making" but concludes in their review that it's a "pedestrian product."
Why is the game being called good instead of great? There are a few answers. One reason many critics were disappointed with the game was the repetitive mission structure, with many missions boiling down to corridor shooting and defending terminals. They agreed that the worlds of Destiny were beautiful but felt there wasn't enough personality or story to give them life. The lack of exploration and social elements, meanwhile, disappointed gamers looking for a more open-world or MMO-like experience.
Nonetheless, reviewers found some things to like. They agree that the game's gunplay has the right look and feel. The process of leveling up and finding new equipment for their character was described by more than a few critics as addictive. Many felt that the game gets much better as the player hits higher levels and gets to undertake more challenging content, like 3-player Strikes.
Here are a few excerpts from throughout the web. As usual, I've tried to collect a mix of positive and negative reviews to give you a sense of the range of opinions out there.
"I played 20 hours of the game over the course of a day-and-a-half and I want to play more right now. This game has its hooks in me fiercely. And that's why my review's score is a 9.5. However, I very much could see a player being turned off by having to repeat missions, by overly-long boss fights and the very specific storytelling techniques or the fact that everything feels ripped out of a pulpy sci-fi novel that thinks it's important." - Financial Post
"If you want a stable and populated FPS MMO, this will do the job with minimal fuss. For all my complaints, I did waste a lot of time with it, and will likely continue to do so, so it's indeed doing something to hook folks. I wouldn't buy into the hysterical hype though." - Escapist
"Destiny suffers from a serious case of rough edges. A number of elements, from the repetitive mission design to a weak early game, are a lot rougher than expected from an otherwise polished game. There isn't one glaring problem that detracts from the experience, but a number of minor issues hurt the game. Beneath those flaws lies an extremely enjoyable MMO-styled shooter that plays excellently, looks great, is extremely addictive, and has a strong and varied endgame. Destiny makes a strong impression on anyone who's willing to give it the time. It may not be the game-changer that Halo was, but Destiny is a strong game in its own right." - WorthPlaying
"People say World of Warcraft only gets good after 50 hours, but this isn't World of Warcraft, this is supposed to be the future – and many gamers won't make it that far through this dryly earnest narrative universe; a universe that amazes us at times, but regards us with clinical abstraction." - Guardian
"Destiny isn't a bad game, by any means. If you like sci-fi shooters, you'll get a good 20 hours of enjoyment out of this. But that's really all it is; a fun, forgettable shooter that plays it safe and sticks to what's been proven, with nothing to really set it apart from it's peers. But maybe that's for the best, because Destiny's one area of attempted innovation - it's hyped up social elements, persistent world, and multiplayer gameplay, are it's biggest failing." - NZGamer
Staff Writer at CinemaBlend.
Your Daily Blend of Entertainment News
Thank you for signing up to CinemaBlend. You will receive a verification email shortly.
There was a problem. Please refresh the page and try again.