Bungie's Destiny Coming To Xbox 720 In 2013, PS4 In 2014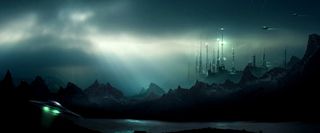 After the contract documents between Activision and Bungie became public thanks to the L.A. Times, gamers were given clear insight into what they could expect from Bungie's secret project, "Destiny". The leak prompted Bungie to acknowledge the game on their site but that's as far as they go in terms of details.
The game will be a timed-release for current generation consoles but will then see a broader release for Microsoft and Sony's next-generation consoles as well. The game will first arrive on the Xbox 360 next year followed closely with a release on the Xbox 720 as a timed-exclusive. Then after, the game is scheduled to appear for the PlayStation 3 and the PlayStation 4 in 2014, according to The Gaming Liberty.
The game will be a multi-part MMO-style shooter that will release bi-annually, starting with the first game in 2013, the sequel to follow in 2015, the next game will arrive in 2017 and the final game will release in 2019. It's quite obvious this game is being primed as the replacement (or close relative) for Call of Duty. If the bi-annual release isn't proof enough, according to the contract Activision is expecting Bungie to pound out DLC expansion packs every four months for each iteration of Destiny, literally equivalent to the map packs Treyarch and Infinity Ward churn out with each release of Call of Duty.
According to GamaSutra Bungie has to make good on each release and if they do they will be contractually granted an additional $2.5 million dollar bonus if the game gets a 90 or above on Metacritic. What's more is that another stipulation for Bungie is that Destiny has to move at least 5 million SKUs in its first six months otherwise Activision can void the entire contract and walk away Scot-free.
Sounds stiff, eh? According to some industry insiders they say that the contract is quite lenient in favor of Bungie, even though getting 5 million SKUs out within six months is an extremely daunting task for a new IP. This is not to mention that it's a hill-climb for most other developers and publishers who have established IPs to move 5 million copies in six months.
It's also pretty ridiculous that the bonus for Bungie will be determined by a 90 on Metacritic...that's almost begging marketing to "pay-off" top reviewers. I don't doubt Bungie can deliver a 90 out of 100 on Metacritic with a stellar FPS outing, but good gosh even Halo: Reach barely hits the 91 mark on Metacritic and that game is the fruition of nearly 10 years of perfecting code, playability and an entirely original world. Seems absurd to expect a brand new IP built from the ground up to land 90 out of the gate.
Well, if Bungie starts complaining about used games in order to get people to buy a new SKU, you can just look to articles like this as a reminder that they need to get 5 million units out there otherwise they could be toast.
I'm sure we can expect to see footage or screenshots of the first Destiny game either later this year or early next year.
Image courtesy of Mikael Aguirre
Staff Writer at CinemaBlend.
Your Daily Blend of Entertainment News
Thank you for signing up to CinemaBlend. You will receive a verification email shortly.
There was a problem. Please refresh the page and try again.