Diablo 3 Console Release Date Confirmed For September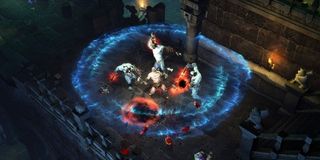 For adventurers ready to dive into the lands of Sanctuary with a controller in hand, you'll be happy to know that Diablo III has now been given a launch date of September 3rd. Along with the PlayStation 3 version of the game, an Xbox 360 version has also been confirmed, releasing the exact same day.
For those waiting on the next generation of consoles, a PlayStation 4 version of Diablo III was announced earlier this year, but no release date for that version of the game has yet been announced. Now that we know Diablo III is heading to the 360, too, I'd wager there's a pretty good chance we'll see the game crawling out of the netherworld on the Xbox One, too.
In Diablo III, players take on the role of a barbarian, witch doctor, wizard, monk or demon hunter on a quest to save the lands of Sanctuary from the forces of the Burning Hells. According to the developers, the console version of the game has been "custom-tailored for gamepad-driven action" with a new dynamic camera perspective, user interface and control system. Players will be able to team up in parties of four on one console, online, or in any combination of the two.
"Playing Diablo III on a big screen with your friends brings a whole new level of intensity to the game, and with all of the control and interface adaptations we've made, it's extremely fun to play on PS3 and Xbox 360," said Blizzard CEO and founder Mike Morhaime. "In addition to the fine-tuning we've done for the console versions, we're also including major content and design updates we've made for the PC version over the past year, so players can expect an epic Diablo gaming experience when the PS3 and Xbox 360 versions launch in September."
As we reported back in April, pre-orders of Diablo III will net players an in-game item called the Infernal Helm which, as it turns out, provides characters with an experience point boost for faster leveling.
For more details, visit the Diablo III official website.
Staff Writer for CinemaBlend.
Your Daily Blend of Entertainment News
Thank you for signing up to CinemaBlend. You will receive a verification email shortly.
There was a problem. Please refresh the page and try again.