Digital Reality Celebrates 20 Years With Skydrift For Xbox 360, PS3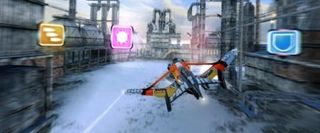 What's a good way to celebrate your 20th anniversary? Well, if you were married you might plan a vacation to Cancun or Paris, but if you're a video game developer you probably kiss the ground and run around like mad considering that thousands of people are put out of jobs in the industry each year due to the shady economy. In the case of Digital Reality, the company is celebrating their 20th anniversary with the announcement of a brand new game for the Xbox 360 and PS3 called Skydrift. It's a fast-paced, arcade-style, adrenaline pumping combat racing game for multiple players featuring snazzy aircraft.
A good description of the game was included in the press release, containing useful info on what will be featured in the game and how the game will be played…
It sounds to me like it might be a little bit like Crimson Skies meets Mario Kart. There's definitely nothing wrong with that, considering how few flight simulators we've received this generation.
The game is set for release on the PlayStation Network, PC and Xbox Live Arcade. You can learn more by visiting the Official Website.
Staff Writer at CinemaBlend.
Your Daily Blend of Entertainment News
Thank you for signing up to CinemaBlend. You will receive a verification email shortly.
There was a problem. Please refresh the page and try again.