Dishonored Takes User Interfaces Seriously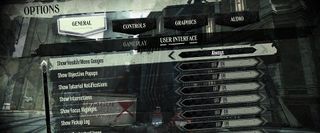 If a video game were a football team, the user interface would be the offensive line: important but completely unnoticed unless it's terrible. Arkane Studios is including a wealth of UI options in assassination game Dishonored so that your experience will be as smooth as possible.
Health/mana gauges, player stance, contextual icons and objective pop-ups are among the UI elements that you can toggle on and off. You can play with essentially no UI whatsoever if you want. Controller and mouse sensitivity can be altered, as well as the field of view. These options are available for all three versions of the game.
The PC version will also feature a "shortcut" bar. You can set 10 different shortcut keys (1 through 0 by default) for your abilities. This bar will fade in when you press one of the buttons and then quickly fade out. PC gamers will also be able to use the Quick Access Wheel available to console gamers by clicking their mouse wheel. Gamepad support is included, too.
It's extremely rare for console gamers to get any UI options so this is an unexpected treat. Even by PC gaming standards, Dishonored is offering a very impressive level of customization. I can't remember the last game that allowed the player to specify the strength of auto aim.
These options won't necessarily make the gun more fun. They do, however, lower the chance that some strange UI element will screw up the game. That happens all too often. For example, I think Kingdoms of Amalur: Reckoning would've been more highly regarded if the camera wasn't stuck to your character's back.
Image 1 of 4
Your Daily Blend of Entertainment News
Staff Writer at CinemaBlend.
Your Daily Blend of Entertainment News
Thank you for signing up to CinemaBlend. You will receive a verification email shortly.
There was a problem. Please refresh the page and try again.