Doom 3: BFG Not Coming To Wii U, Vita, iOS Because id Software Doesn't Have Time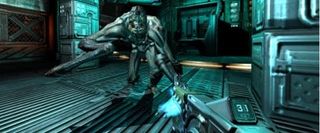 Doom 3: BFG won't find a home on the Wii U and other sub-platforms is not because the system isn't powerful enough or the wannabe-iPad controller is inhibitory or anything like that. The main reason why id Software won't be porting the game over to the console is because they just don't have time. Bummer.
Go Nintendo picked up the quote that was part of Carmack's QuakeCon keynote, as indicated over on the Tech Powerup website, where lead designer John Carmack stated the following in regards to a Wii U port of the Oculus Rift-supported FPS redo of Doom 3...
Ah, bummer, again.
I actually think the lack of a Vita version would hurt them more than the lack of a Wii U version. It would be impossible to play Doom 3: BFG with an Oculus Rift while using the GamePad thing because how on Earth could you play the game with your head covered by the headset while looking at the pad's screen? You'd need a double set of eyes and I'm sorry but if you have eyes installed on the back of your head wouldn't just be stupid considering that your arms can't stretch around to your back? You'd probably have to have the eyes installed in some other place like your neck or maybe your belly button. But...then you'd have to make sure no ever punches you in the stomach or they might poke your new set of eyes out.
Anyway, Go Nintendo makes the keen observation that this doesn't completely rule out a port of Doom 3: BFG for the Wii U and other consoles, it just means that id Software may have to delay getting around to a port until they can free up some time.
In the meantime, you can learn a little more about the re-release of the 2004 shooter by visiting the Official Website.
Your Daily Blend of Entertainment News
Staff Writer at CinemaBlend.