The Walking Dead: Our World Brings Zombies To Your Neighborhood Today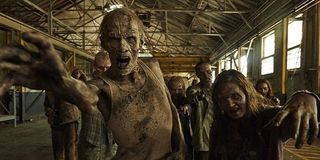 If you've ever wanted to fight your way through the zombie apocalypse without having to worry about actual zombies, The Walking Dead: Our World might be just the ticket. Speaking of which, the augmented reality game for mobile is now available across iOS and Android markets. So grab your phone, take to the streets and get ready to look like a crazy person as you attempt to mow down undead hordes while strolling through the real world.
We first announced The Walking Dead: Our World a couple weeks back and, as of today, the Next Games and AMC collaboration is ready to roll on pretty much any modern mobile device. It's a free-to-play game, so there's no harm in downloading the app and seeing what the game has to offer. Or, you could just keep reading and we'll break down some of the finer points for you.
Based on the popular television series, The Walking Dead: Our World is an augmented reality game that encourages you to head out into the real world in order to fight zombies and accomplish missions. There's also a Couch Mode, which I'll get to in just a moment. For the standard game, it's actually quite similar to games like Pokemon Go. Our World is powered by Google Maps, so your in-game avatar should be walking around a virtual world that tracks nicely to the real one. Instead of coming across pocket-sized monsters to catch, though, you'll instead stumble upon hordes of zombies.
When you end up in a shootout, you can switch the game to AR mode, which uses your device's camera to make it look like the zombies are walking toward you in the real world. From there, you'll use the game's fighting mechanics to take care of business, or even call upon various characters from the show to join the fray and mow down some walkers for you.
On top of taking out infestations of zombies, players will be able to go on rescue missions and hunt down item caches. Our World also offers weekly missions, group activities to take part in with your friends and even the ability to send up flares to "take part in the best missions anywhere in the world."
If you're unable to hit the streets, this zombie slay-a-thon also offers Couch Mode, which will let players take on a selection of missions and activities without ever having to leave the house. That's a nice little touch that actually addresses one of the biggest omissions from similar AR games.
It'll be interesting to see if the world takes to The Walking Dead as ravenously as it has Pokemon in the coming months. It seems like a pretty ambitious endeavor, so we'll be following it closely to see how things shake out. If you've had an opportunity to start diving in yourself, feel free to leave your early impressions in the comments below.
Your Daily Blend of Entertainment News
Staff Writer for CinemaBlend.