Dragon's Crown Coming To U.S. PS3, Vita This Summer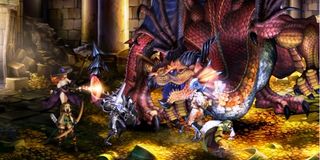 It looks like would-be dungeon divers won't have much longer to wait to get their adventure on as Vanillaware and Atlus have officially announced a summer 2013 release date for upcoming 2D co-op hack-and-slash romp, Dragon's Crown, exclusive to the PlayStaiton 3 and PlayStation Vita.
Originally revealed back at E3 2011, Dragon's Crown's road to release has been something of a long one. That might have something to do with the ridiculous amount of detail being crammed into every square inch of the game, as was recently revealed in a crop of brand new screenshots.
We announced last week that Dragon's Crown had been given a July 25 release date in Japan and, now given a "summer 2013" release window in the U.S., it's pretty likely that an American launch will follow shortly after.
In Dragon's Crown, up to four players or AI partners take on the role of six legendary heroes -the Fighter, Dwarf, Amazon, Wizard, Elf and Sorceress- in order to smite the evil creatures hiding in the dungeons and caves of Hydeland and claim the ultimate treasure, the mysterious Dragon's Crown.
Drop-in, drop-out multiplayer will be available on the PS3 while the Vita will have ad-hoc play. Cross-play between the two versions of the game, sadly, will not be an option.
Along with all of the bashing and looting you would expect out of a beat 'em up, Dragon's Crown will also feature evolving missions, several NPCs to interact with, massive skill trees, unique abilities and weapons for all characters and more.
Dragon's Crown will be $49.99 on the PS3 and $39.99 on the Vita. Physical and downloadable copies will be available at launch. For more details or to pre-order, visit Atlus.com.
Staff Writer for CinemaBlend.
Your Daily Blend of Entertainment News
Thank you for signing up to CinemaBlend. You will receive a verification email shortly.
There was a problem. Please refresh the page and try again.