Dragon's Dogma Character Creation Screenshots Released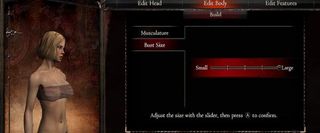 Capcom released a full batch of brand new screenshots for the upcoming Dragon's Dogma, mostly including a look at the game's character creation process, as well as a few of the characters in action against some larger-than-life bosses.
Dragon's Dogma is basically Capcom's foray into the action-RPG, medieval-fantasy genre that BioWare has been dominating for a while since the original Baldur's Gate. One of the things that Capcom is aiming to do differently is focus more on dynamic combat interaction as opposed to the typical reliance on roll dice and chance magic based on typical D&D rules.
You can check out some of the epic boss pictures below, along with some nicely detailed screenshots of the character creation process as well, which includes multiple character classes, physical modification options and the ability to pick whether the protagonist is a male or female.
Dragon's Dogma is set for release in 2012 for the Xbox 360 and PS3. You can learn more about the game by paying a visit to the Official Website.
Staff Writer at CinemaBlend.
Your Daily Blend of Entertainment News
Thank you for signing up to CinemaBlend. You will receive a verification email shortly.
There was a problem. Please refresh the page and try again.