Dying Light Studio Delays Hellraid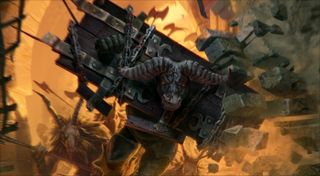 Were you looking forward to the random-dungeon, hack-and-slash, first-person game Hellraid from Techland? Well, you'll have to put that excitement on a shelf and close the cabinet for now. They recently announced that the game is being shelved and could be reworked from the ground up into something else.
Over on Facebook, the official account for the game made a post stating that the game will be delayed. The post doesn't waste any time and it starts off saying...
For those of you who don't remember, Hellraid was introduced as recent as 2013 around this same time. The game promised dungeon looting, tactical, first-person combat, and lots of challenging battles with unforgiving bosses and monsters.
I noticed something was wrong because we rarely received any updates about the game, even though the developers would infrequently post gameplay footage. But the first warning sign came when Techland announced Dead Island: Epidemic in mid 2013, and eventually had beta sign-ups commence for the game but had nary a thing to share about Hellraid. Unsurprisingly, the developers announce in the fall of 2013 that Hellraid was going to be delayed into 2014.
2014 came and went and the only notable thing released for the game was a 20 minute gameplay walkthrough.
Enter 2015 and the prominent success of Dying Light, and now Techland is saying that Hellraid is being shelved. The Facebook post further reads...
More than two whole years of work and the project is basically getting scrapped.
Techland mentions in the post that they'll be diverting resources to Dying Light and the "further expansion" of the new franchise. It makes sense given that Dying Light was mostly universally loved by most gamers and critics and turned out to be a commercial success.
Hellraid wasn't one of those games that struck me as a "must have" and it suffered from a few technical drawbacks – mainly with the lack of environmental destruction – but it could have been worked into something worthwhile. If the team does make the game a bit more physics-based while still relying on the dark fantasy elements, I think Hellraid could carve out its own little niche in the first-person fantasy sub-genre.
For now, though, any fans who were eagerly awaiting the release of Hellraid will have to wait until some undefined time to see the game again. Given that I had completely forgotten about the game until this recent development surrounding the game's progress, I guess bringing it back to the drawing board so that they can turn the game into something a bit more memorable isn't such a bad idea.
Your Daily Blend of Entertainment News
Staff Writer at CinemaBlend.
Your Daily Blend of Entertainment News
Thank you for signing up to CinemaBlend. You will receive a verification email shortly.
There was a problem. Please refresh the page and try again.