Dynasty Warriors Next Coming In February, 2012 For PS Vita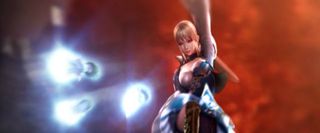 Tecmo Koei announced that a new version of Dynasty Warriors is on the way for Sony's new handheld, the PlayStation Vita, as a launch title in the European territories. The newest version of the game will make use of the Vita's handheld power and dual-analog controls, enabling gamers to play Dynasty Warriors the way it was always meant to be played while on the go.
As stated in the press release...
Many modes from the latest console rendition of Dynasty Warriors will also make an appearance in DWN, such as being able to edit or customize your very own warrior, and play online with friends in the cooperative modes. What's more is that the game sports intuitive not intrusive touch-screen controls, allowing gamers to quickly issue commands or capture bases without ever losing a beat (or a KO combo) during the fast and furious action. For the most part, Omega Force seems to have ported the game over to handhelds and aimed only to make improvements on the port.
You can check out a complete list of the game's features below or head on over to the Official Website to learn more about the game. We'll keep you posted on a North American release date.
Game Features Include:
• Fusion of button controls with touch controls, such as multi-touch screen and rear touch panel sensor (6 axis detection).
• Combine explosive action with tactical aspects! Touch or shake to use the new "Speed Musou" and hit your enemies with powerful. Touch the screen to perform a "Direct Break" and capture bases in the blink of an eye. You can also touch the map directly, without interrupting the action, to direct your subordinates with "Straight Commands."
• The impressive visual effects will help you delve deep into the Warriors' world. Get a taste of life-like duels and experience a plethora of special missions using a variety of touch and sensor controls. Enjoy battles overflowing with tension in truly immersive, cinematic action.
• Communication enhanced by local play and GPS: Connect with other players and use GPS-related positioning to enjoy continuous social interaction. Use PlayStation Vita's Live Area, the new "Conquest Mode"(supporting WiFi and 3G) and the new 4 player ad-hoc multi-player "Coallition Mode" for a rich multiplayer experience.
• Dynasty Warriors next also sees the return of fan favourite 'Edit Mode, were players can create and customise their own warriors!
• Enjoy intense battle action with more than 65 playable characters!
Staff Writer at CinemaBlend.
Your Daily Blend of Entertainment News
Thank you for signing up to CinemaBlend. You will receive a verification email shortly.
There was a problem. Please refresh the page and try again.