E3 2010: Tron Evolution Gameplay And Lightcycle Trailers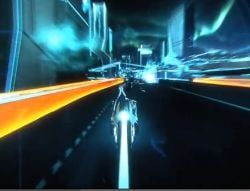 Everyone loved the lightcycles from the original Tron movie – you can't be a Tron fan and not love the lightcycles. With that said, new gameplay footage was released of everyone's favorite high-speed wall-generator as well as some Frisbee throwing platform-action.
The two game-floor trailers give gamers a good glimpse into what they can expect from the gameplay in the upcoming Tron: Evolution. The graphics are superb and the animations could use a bit of tweaking, but overall it's a cool looking game. The lighting and color scheme is what really stands out. Unfortunately, I can't speak the same words of praise for the melee and close-quarter combat…yuck.
You can check out some lightcycle freeway racing and some wall-running action in GameTrailers' E3 videos below or you can visit the Official Website to learn more. Tron Evolution is due out this upcoming winter for the Xbox 360 and PS3.
Video Games | Tron: Evolution | E3 2010: Light Bike Gameplay (Cam)
XBox 360 | Playstation 3 | Nintendo Wii
Video Games | Tron: Evolution | E3 2010: Platforming Gameplay (Cam)
Staff Writer at CinemaBlend.
Your Daily Blend of Entertainment News
Thank you for signing up to CinemaBlend. You will receive a verification email shortly.
There was a problem. Please refresh the page and try again.