E3 2011: Trials Evolution Announced, Teaser Trailer Released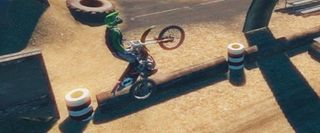 RedLynx revealed a sequel to their well-received Xbox Live Arcade game Trials HD today. Trials Evolution will arrive on XBLA in 2011.
Trials HD tasks you with driving a motorcycle through a course full of obstacles. You're graded based on completion time, the number of times you screw up, and other criteria based on the mode you're playing in. A level editor is included with the game so players can design their own courses and share them with friends. Evolution will likely offer a similar experience.
"Trials Evolution is more than just a sequel to Trials HD," said Antti Ilvessuo, Creative Director of RedLynx. "We listened carefully to all the feedback we received from the previous game and added it to our own vision of what the ultimate Trials game could be, coming up with a gamer's wish list of must-play features."
Accompanying today's announcement was a brief teaser trailer. It has some brief gameplay footage at the end.
Staff Writer at CinemaBlend.
Your Daily Blend of Entertainment News
Thank you for signing up to CinemaBlend. You will receive a verification email shortly.
There was a problem. Please refresh the page and try again.