E3 2013: Creative Director Jens Matthies Shows Off Wolfenstein: The New Order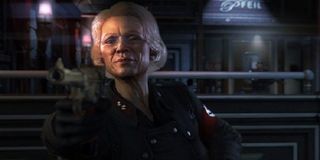 William B.J. Blazkowicz is once again ready to be deployed behind enemy lines, this time squaring off against the Nazis in the alternate history of Wolfenstein: The New Order.
Machine Games Creative Director Jens Matthies addressed the media in a behind-closed-doors presentation during E3 2013, giving everyone a brief look at a section of the game not being offered on the showroom floor.
"We set out to make an action adventure shooter where Nazi's have taken over the world with the help of a mysterious new technology," Matthies said. "[Blazkowics] is in a different world now, where everything he's fought for is gone." Wolfenstein: The New Order takes place in an alternate 1960 following the Nazis' victory in World War II. He's joined a resistance group still bent on overthrowing the most love-to-hate-em enemies in video games history, which will be carried out in traditional FPS fashion. Less traditional, however, is the game's stronger focus on character and story.
The section of the game we were shown featured Blazkowicz carrying a tray of coffee cups, rather than a gun, through a train full of Nazis. He's asked to sit at a table with an charmingly evil woman whose name I couldn't even guess how to spell. A tense scene follows in which the woman tries to determine your "purity" by showing you a series of pictures and asking which one you prefer. Screw it up, and she promises to shoot you in the head.
After that scene plays out, Blazkowicz returns to toting his tray of coffee further into the train where he rendezvous with one of his fellow undercover resistance fighters. They have a brief chat, and the screen fades to black. Not what you'd expect from a Wolfenstein game, which is pretty great in my book.
The next scene we see, however, IS exactly what you'd expect from a Wolfenstein game, complete with big, explosive guns, lots of enemies to put bullets into, cover, shredding environments and even some platforming. Oh, and, yeah, there's some wonderfully cheesy one-liners along the way, just in case you start taking the shooting portion of the game too seriously.
Look for Wolfenstein: The New Order, coming from Bethesda, to arrive on PC, PS3, PS4, Xbox 360 and Xbox One by the end of the year.
Your Daily Blend of Entertainment News
Staff Writer for CinemaBlend.