E3 2014: Hands On With The Order 1886 And Murasaki Baby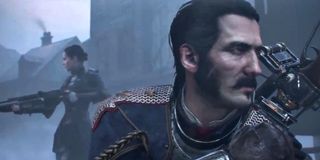 The PlayStation E3 2014 booth offered loads of games for players to sink their teeth into, two of which could not possibly be at further ends of the spectrum. Get ready for a hands-on look at the PlayStation 4 third-person shooter, The Order: 1886, and the PlayStation Vita's bizarre puzzler, Murasaki Baby.
While the Sony booth (more of a large, open arena displaying rows and rows of television screens and consoles) played host to dozens of PlayStation 3, PlayStation 4 and PlayStation Vita games during this year's big show, only a small collection of titles were set aside for the press to dive into, giving us a chance to get in some hands-on time with games we might have otherwise had to wait in line for hours to play.
One such game was Freedom Wars, which I enjoyed enough to do a more fleshed-out hands-on preview with earlier this week. You can check that out right here, if you feel so inclined. That's not to say that the rest of these games didn't entertain, just that Freedom Wars greatly exceeded my expectations. As for the rest of what I got my hands on, here's a quick look at some of the upcoming goodness.
The Order: 1886
The most visually impressive game of E3 also had one of the most lackluster showings in demo form. In the playable sequence, you get to take out enemies with a nifty thermite gun. Basically, you aim and spray the area as if it were an ordinary rifle, then you hit an alt fire to launch a flair that will set the whole mess ablaze. There was some typical cover-based shooting, a pretty cool slo-mo section where you get to pick enemies off one at a time with a pistol and then, boom, the demo is over.
Make no mistake; I'm still very excited for this game. As I said, it looked absolutely amazing and the cast of characters and their gear is intriguing. It also controlled perfectly fine and I'm a huge sucker for "secret organization fights monsters" storylines. But what I got to actually play at E3 was all-too-brief and didn't really give me a chance to see what the game will do differently from the rest of the third-person shooters on the market. Hell, I barely had the opportunity to see what it does the same. What I got to play of this PS4 exclusive was solid, I just need to spend more time with The Order before I can start ranting or raving about it.
Murasaki Baby
From the Tim Burton-esque art style to the refreshingly unique touch-based puzzles, the Vita's Murasaki Baby has become a slightly bigger blip on my radar after getting in some time with the game.
The titular tyke, with her upside-down face and adorable animations, is bizarrely endearing, and guiding her through a side-scrolling world of monsters and mayhem was kind of fun. The controls are simple and intuitive, requiring the player to tap enemies that buzz onto the screen, physically take the baby by the hand to get her to walk, and catch her balloon before it flies away when she gets scared. You'll also need to drag lights around to light dark passages and perform some basic swipe motions to get her to run and jump.
What sets this one apart from the pack, however, are the swappable backgrounds. The background can be shifted with a quick back touchscreen swipe, and their individual "abilities" can be activated with a back touchscreen tap. Need the power of wind to solve a puzzle? Swap to the background with windmills and set off a breeze with a quick tap. Is a monster holding up a ramp and preventing you from passing? Slide over to the jack-in-the-box background, tap it to activate the devilish devices, and watch as the critter runs away in fear.
This was an early stage, so the puzzles were pretty straightforward. What I got to sample, though, has me eager to once again take Murasaki Baby by the hand and get to exploring its dark and twisted world.
Staff Writer for CinemaBlend.
Your Daily Blend of Entertainment News
Thank you for signing up to CinemaBlend. You will receive a verification email shortly.
There was a problem. Please refresh the page and try again.