E3 2014: PS4 Matches Xbox One's Barrage Of New Games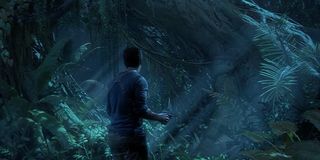 If E3 2013 was an about-face for PlayStation, then the 2014 press conference was simply a matter of same story, different chapter. While taking a bit of time to roll out the services, content and stats that seem to delight investors and annoy everybody else, this year's press conference continued last year's trend of games galore, cramming a ridiculous number of titles into a mostly up-tempo show.
With the PS4 being announced at last year's E3, the PlayStation press conference offered a huge emphasis on games, earning loads of praise from games press and fans alike. Showing that they've managed to keep their ears open this year, the 2014 conference offered many of the same strengths, namely a focus on the games folks will be playing over the course of the next 12 months or so.
It's no secret that Destiny is shaping up to be one of the biggest third party games of the year, so it's no surprise that PlayStation's 2014 press conference opened up with yet another look at the multiplayer shooter, including a brand new white PS4 bundle featuring the game.
That was immediately followed by a fresh look at The Order: 1886, which is more or less one of the most gorgeous console games I've seen so far. Whether or not the action will be worth writing about remains to be seen, but at least we now know, through actual gameplay no less, that the game is going to be super easy on the eyes.
As has been the case these past few years, PlayStation has made a hard drive to earn the trust and support of indie game developers. It makes sense, then, that their third showing would be for a lovely looking twin-stick flyer by the name of Entwined, a game made by a young group of developers and released to the PlayStation 4 during the press conference.
A bit of inFamous: Second Son DLC featuring a female protagonist is on the way, as is LittleBigPlanet 3. Featuring new characters with new abilities, the game was actually shown off in a level created especially for the show.
A couple of weeks ago, a video leaked showing off a game created by From Software that, as far as anyone could guess, looked like DLC for Dark Souls II. It turns out that is not the case, as new PlayStation exclusive Bloodborne was announced during the Sony show, looking every bit as dark and grotesque as the developer's other works. Count me in!
[[ br. br ]] Far Cry 4 got some in-game show time highlighting a cooperative element, while a pretty hilarious trailer about an oblivious hunk of a jogger introduced the world to Dead Island 2.
Another couple of surprises followed, including an announcement that Magicka 2 will be joining the PlayStation 4 library, alongside a remake of Tim Schafer's fan-favorite, Grim Fandango.
For lovers of all things Devolver, a lineup of games from the indie publisher are also headed exclusively to PlayStation platforms, including Broforce, titan Souls, Not a Hero, Hotline Miami 2 and The Talos Principal.
At this point, it became clear that the main focus of the show would be PlayStation exclusives, including Suda 51's next title, Let it Die, which looks like maybe a super-violent fighting game...maybe?...and Abzu, a game from some of the folks behind Journey that takes the artistic exploration into the depths of the ocean.
Another indie darling making its way to the PS4 is No Man's Sky, where each player will spawn on their own randomly generated planet, then get to go explore an infinite galaxy in real time alongside their fellow starry-eyed adventurers.
At this point in the show, our attention was turned from the games to "the other stuff," including a brief look at Sony's VR headset, the Morpheus, and announcements including YouTube functionality on PS4 sharing, an upcoming launch of game rental service PlayStation Now, as well as Sony/PlayStation original content, including a series adaptation of Powers, the comic book about police who have to solve crimes related to superheroes.
With so many games crammed into the start of the show, the lull would only last a short time, as PlayStation ended its press conference with five massive games including gameplay footage of Mortal Kombat X, a new trailer for Metal Gear Solid V: The Phantom Pain, an announcement that GTA V will be arriving on the PS4, a new trailer for Batman: Arkham Knight--which was cleverly interrupted by none other than The Scarecrow—and, of course, a painfully brief look at Uncharted 4: A Thief's End.
So, similar to last year's show and Microsoft's press conference earlier in the day, it looks like PlayStation's mantra moving forward is "content," lots and lots of it.
[[ br. br ]]
[[ br. br ]]
Your Daily Blend of Entertainment News
Staff Writer for CinemaBlend.