EA: We Want To Publish Kingdoms Of Amalur: Reckoning 2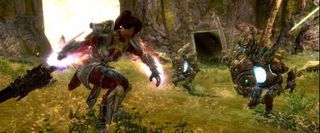 There may be never be a sequel to the single-player RPG Kingdoms of Amalur: Reckoning. However, if there is, EA Labels president Frank Gibeau says that his company would like to publish it.
"I think it's unfortunate how everything worked out [for 38 Studios]," Gibeau told Game Informer. "At the end of the day we saw a lot of creativity and vision in the team that Curt [Schilling] put together. We thought the game was terrific. It reviewed well."
"We built a good business there and hope there's a sequel to it someday. We'd love to be a partner for that."
Reckoning debuted in February. In addition to garnering solid reviews, it sold 1.2 million copies. While that figure was above EA's expectations, it wasn't enough to save 38 Studios from financial distress. The studio fired all of its employees in late May. Subsidiary Big Huge Games, which led development of Amalur, closed down as well.
Currently the rights to the Amalur series reside with 38 Studios. Perhaps they'll sell it to a company that can carry the torch. The remnants of Big Huge have since formed Epic Baltimore, so they seem like a likely candidate to continue the series.
38 intended to follow Reckoning with an MMO dubbed Project Copernicus. It seems less likely that someone will rescue that game, considering the cost of MMOs. However, 38 Studios did manage to produce a gameplay trailer and fly-through video of the project so maybe that'll pique another company's interest.
Your Daily Blend of Entertainment News
Staff Writer at CinemaBlend.
Your Daily Blend of Entertainment News
Thank you for signing up to CinemaBlend. You will receive a verification email shortly.
There was a problem. Please refresh the page and try again.