Elder Scrolls IV: Oblivion Expansion Pack Details And Screenshots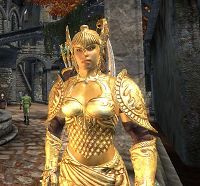 Bethesda Softworks and ZeniMax Media Company has announced that the official expansion pack for the Elder Scrolls IV for the Xbox 360 and PC is on its way. All the details for the expansion pack will be unveiled in the upcoming issue of the Official Xbox Magazine. But why wait when you can check out all the details here?
Elder Scrolls IV: Oblivion And The Shivering Isles will offer gamers at least 30 additional hours of gameplay in the expansion for Oblivion. Added to this, gamers can either continue the adventure with their created character, or take a spin around the world of the Shivering Isles with a new character. Todd Howard, executive producer for The Elder Scrolls also had some comments to share regarding the recently announced expansion pack, saying "We're thrilled with the response that Oblivion has received to date and feel that Shivering Isles will offer a whole new and different experience to anyone who played and enjoyed Oblivion,"
The full expansion pack will take players deep within the realm of the Shivering Isles, as the split between the land will offer gamers a visual dichotomy of sane and insane possibilities, along with normal and abnormal experiences. Although, there's a lot in the Elder Scrolls games that are always closer to abnormal than they are normal. Still, the press release indicates that "The Shivering Isles features a bizarre landscape split between the two sides – Mania and Dementia –filled with vast, twisting dungeons mirroring the roots of the trees they are buried within. You'll encounter more than a dozen new creatures including hideous insects, Flesh Atronachs, skeletal Shambles, amphibious Grummites. Throughout your adventure, you will discover all new items, ingredients, spells, and more, and have the talented craftsmen of Crucible and Bliss forge new armor and weapons just for you."
Due out this spring for the PC and Xbox 360, Vlatko Andonov, president of Bethesda Softworks had a few words to chime in, commenting that "The enthusiastic response we've received to our downloadable content has been overwhelming, and we're excited to bring Oblivion fans a full expansion,"..."The world we've created for Shivering Isles is unlike anything you've seen or played in Oblivion and we can't wait for folks to play it."
As promised, the exclusive screenshots of Oblivion's Shivering Isles are below. Enjoy.
Staff Writer at CinemaBlend.
Your Daily Blend of Entertainment News
Thank you for signing up to CinemaBlend. You will receive a verification email shortly.
There was a problem. Please refresh the page and try again.