Elder Scrolls Online PS4 And Xbox One Delayed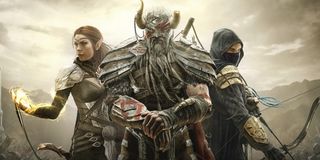 Elder Scrolls Online won't be debuting on the PS4 and Xbox One next month as planned. Today developer ZeniMax Online Studios announced a significant delay for the console versions of the MMORPG.
"We continue to work on the console versions of ESO, and game development has been progressing steadily, but we are still working to solve a series of unique problems specific to those platforms," ZeniMax said in a news post on ElderScrollsOnline.com. "Integrating our systems with each console manufacturer's networks—which are both different from the PC/Mac system as well as different from each other—has been a challenging process.
"It has become clear that our planned June release of the console versions isn't going to be possible. Though we have made great progress, we have concluded that we'll need about six months to ensure we deliver the experience our fans expect and deserve."
They didn't provide a specific release date for Elder Scrolls Online PS4 and Xbox One. However, a six-month delay puts the game's launch sometime in November.
To balance out the bad news, ZeniMax announced a special offer for the PS4 and Xbox One versions. If you buy the PC or Mac versions by the end of June, you'll be able to transfer your characters from that platform to PS4 or Xbox One when the game hits consoles. You'll still have to pay for the PS4 or Xbox One version but you'll get it for only $20. ZeniMax is also throwing in an additional 30 days of game time.
"Whether you decide to take advantage of this offer or not, we promise to do everything we can to get the game released on both consoles as quickly as we can. We will keep everyone updated with additional details regarding character transfers, specific offer dates, when you can expect console beta to start, and of course, when ESO on consoles will launch."
The June launch date for Elder Scrolls Online PS4 and Xbox One always struck me as very optimistic. The PC and Mac version is only a month old and there's still plenty of work to be done, between content updates and bug fixes. The development team's also spent a lot of time trying to remove bots and gold spammers from the game. Why release the game on two more platforms when you're still cleaning up the original version?
The other reason I was suspicious about the console versions arriving on time was ZeniMax's silence about them. They announced the release date as simply "June" and never provided any firm information on the beta.
Staff Writer at CinemaBlend.
Your Daily Blend of Entertainment News
Thank you for signing up to CinemaBlend. You will receive a verification email shortly.
There was a problem. Please refresh the page and try again.