Elder Scrolls Online Release Date Set For PC, Xbox One, PS4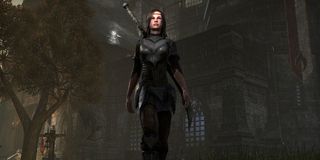 Elder Scrolls Online will make its global debut on PC and Mac in April 2014, ZeniMax Studios announced today. The MMORPG will then spread to consoles a bit later on in the year.
"Worldwide demand for The Elder Scrolls Online is extraordinarily high," says game director Matt Firor on the official website. "This means we need to do a staggered rollout of the different versions of the game to spread out the initial service load and ensure an enjoyable, smooth gameplay experience. It is not only a game we are launching – it is a large online service as well, and our number one priority is to ensure a trouble-free, stable rollout for everyone."
"We long ago promised that as soon as a version of the game is ready, we will launch it. So we're happy to announce that the game will launch worldwide for PC and Mac players on Friday, April 4, 2014, while PlayStation 4 and Xbox One fans will see the game arriving on consoles in June 2014."
The staggered release date isn't a huge shock. A stable MMO launch on just one platform is a monumental effort. Doing it on PC and Mac while also releasing the game on two new consoles just sounds like a recipe for disaster.
The vague "June 2014" release date for Xbox One and PS4 makes sense, too. It sounds like ZeniMax is giving themselves some wiggle room for a delay in case the PC and Mac launch isn't as smooth. They should, too: if a game's in sorry shape, adding a couple more platforms to the mix isn't going to solve anything.
ESO is set centuries before the events of single-player Elder Scrolls games like Skyrim and Oblivion. Three factions are battling for control of Tamriel. Players will personally take part in this civil war. A new trailer from ZeniMax called "War in Cyrodiil" shows massive player armies fighting with siege weapons, magic and steel.
ZeniMax launched the beta test for ESO earlier this year. They've had about 4 million people sign up to test the game. Firor didn't outright promise that everyone who signed up will get into the beta before launch, but he does "hope" that it'll happen.
The tests have been getting larger and larger as we approach launch. In late November, ZeniMax invited over 300,000 players to try out ESO in the span of a weekend. We may or may not have tried the game during that weekend. We really can't say. No, really, we can't.
Your Daily Blend of Entertainment News
Staff Writer at CinemaBlend.
Your Daily Blend of Entertainment News
Thank you for signing up to CinemaBlend. You will receive a verification email shortly.
There was a problem. Please refresh the page and try again.